Condoleezza Rice Is the California GOP's Elizabeth Warren
A recent poll found that the former Secretary of State might be Republicans' best shot at winning Senator Barbara Boxer's seat. But Rice says she isn't running.
By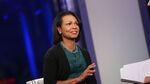 California Republicans and East Coast liberals have one thing in common: their dream candidate has repeatedly said she's sitting out the 2016 election cycle.