Condoleezza Rice Is the California GOP's Elizabeth Warren
A recent poll found that the former Secretary of State might be Republicans' best shot at winning Senator Barbara Boxer's seat. But Rice says she isn't running.
By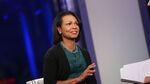 California Republicans and East Coast liberals have one thing in common: their dream candidate has repeatedly said she's sitting out the 2016 election cycle. 
Despite the best efforts of Ready for Warren, the Massachusetts Democrat has said several times that she won't challenge Hillary Clinton to become the Democratic presidential nominee. In California, where the phrase "elected Republican official" is often an oxymoron, Republicans see former Secretary of State Condoleezza Rice as their best chance to win Senator Barbara Boxer's seat in 2016. Too bad she doesn't want to run.
After Boxer announced her retirement in early January, Rice—currently a professor at Stanford University—and her team quickly ruled out a campaign. "It's not even a consideration," Georgia Godfrey, Rice's chief of staff, emailed The Hill at the time. "She's happy here at Stanford!"
Since then a poll from the Field Research Corporation released last week asked likely voters to look at a list of 18 prominent California politicians and say whether or not they'd be inclined to vote for them. The poll found that 49 percent of likely voters are inclined to vote for Rice, more than any other candidate—including Democratic frontrunner Kamala Harris, the state attorney general, who 46 percent of voters are inclined to support. The next closest Republican is former state Senator Phil Wyman, who only 24 percent of voters would be inclined to vote for.  He's 13th on the list. 
The poll kicked off another round of Rice 2016 talk, and the Black Conservatives Fund sent out a fundraising email Tuesday extolling her virtues. Politico's Todd S. Purdum said her place in the poll reflects "mostly name recognition," but also the fact that the California GOP is sorely lacking in competitive candidates.  "The trouble is the bench," Jack Pitney, a former Republican congressional aide, told Politico. "Republicans don't have any statewide elected officials, and as far as House members go, now that the GOP is in the majority in Washington, they have a lot more to lose."
On the national level, circumstances are flipped. Republicans have a deep bench of candidates, some moderate, some conservative—something for everybody. For Democrats, there's Hillary Clinton. And if the left doesn't like her hawkishness, her ties to Wall Street, or the fact that the Clinton Foundation is now taking donations from foreign donors then, well, the bench is pretty shallow.
And yet, Warren has clearly stated—multiple times in multiple tenses—that she's not running. Rice, who was also pitched as a potential 2014 gubernatorial candidate, is also sticking to her answer. "I have heard of the poll," Godfrey wrote in an email to the Sacramento Bee. "No change on her position about running for Senate!"