'Excruciating' Interview Clouds U.K. Greens Election Launch
Thomas Penny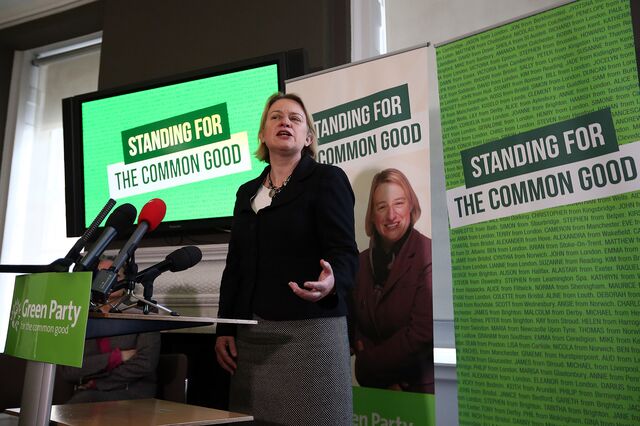 Green Party leader Natalie Bennett said she suffered a "mind blank" during a radio interview that overshadowed the start of her party's campaign for the May 7 U.K. general election Tuesday.
Bennett couldn't answer questions about her party's housing policy in an interview on LBC radio and appeared confused about where the money to pay for 500,000 new homes was going to come from. She told presenter Nick Ferrari that she was suffering from a cold.
"It was absolutely excruciating in the studio," Bennett told a news conference in London later in the day after upper-house lawmaker Jenny Jones tried to block a journalist's question about the interview. "All I can say is occasionally one just has a mind blank; that happens. I've been presenting the Green Party's policies up and down the country, I'm delighted with the response they get and I'm delighted to have the backing of more than 54,000 Green Party members."
Bennett is scheduled to join the other party leaders in televised debates before the election after Prime Minister David Cameron said it was "only fair" that the Greens should be included. The party, which has been scoring about 7 percent in opinion polls and increasing its membership as support for the traditional major parties has dwindled, will be running candidates in at least 509 districts -- 89 percent of seats in England and Wales -- and is targeting 12 seats in the House of Commons. It won its first ever seat in the 2010 election.
Odds Slashed
Bookmaker Ladbrokes Plc slashed the odds on Bennett being replaced as Green leader before the election to 10-to-1, meaning a successful bet of 1 pound wins 10 pounds, from 50-to-1.
Speaking later on BBC Television's "Daily Politics" program, Bennett apologized to party members and said a fully costed manifesto would be published in March.
"I had a very bad interview on housing this morning," she said. "I am very sorry to the Green Party members who I did not do a very good job representing our policies on."
The Greens' priorities in the campaign will be to oppose the government's program of spending cuts while making the case for higher taxes on the rich, keeping the National Health Service in public hands, phasing out fossil-fuel power generation and returning Britain's railways to public ownership, Bennett said.
"I'm proud to have been one of those MPs who has stood up and said 'no' to the government when they've been trying to make some of the poorest people in the country pay the highest price for an economic crisis that was certainly none of their making," Caroline Lucas, the party's only member of the House of Commons, said at the campaign event. "With polls suggesting that no single party will win a majority, the role of the so-called smaller parties will be more critical than ever."
Before it's here, it's on the Bloomberg Terminal.
LEARN MORE