Walker's Winter Attack on Wisconsin Unions May Chill Protests
John McCormick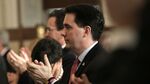 Temperatures were a fair bit higher outside when as many as 100,000 people thronged Wisconsin's state capitol in Madison during Governor Scott Walker's last major confrontation with organized labor.
The potential Republican presidential candidate will find out whether the frigid weather -- forecast not to break freezing -- does anything to slim the crowds and anger directed him as the latest anti-labor bill moves through the Wisconsin Assembly this week.
State and national union leaders were rallying their forces ahead of a day-long committee hearing Tuesday on the so-called "right-to-work" bill, legislation that would allow employees in union workplaces to opt out of paying dues, weakening labor group budgets and membership. Such laws are popular among Republicans and business leaders and are viewed as a way to weaken groups that traditionally back Democrats.
The confrontation arrives as Walker, 47, looks to build his standing ahead of a likely campaign for the White House.
"This refocuses voter's attention on the type of battles that he engaged in that brought him to national prominence," said Kevin Madden, a Republican strategist and former senior adviser to the party's 2012 nominee, Mitt Romney. "He's going to have a chance to do that now at a time when a lot of Republican primary voters are tuning in and comparing candidates."
Party Warmups
Audiences in early primary and caucus states such as Iowa, New Hampshire and South Carolina are watching him much more closely than in 2011, when he won the right to restrict collective bargaining for public workers. That set off weeks of protests that overran the capitol at a time when temperatures were closer to 40 degrees Fahrenheit (4.4 Celsius).
"It allows him to carve out a spot as a genuine reformer who has a record of taking on the status quo and some of the political left's sacred cows," Madden said. "Voters inside these early contests tend to be drawn to the candidate who can draw the clearest contrast with the likely Democratic candidate."
The next week probably will help the governor enhance his standing as a crusader for conservative doctrine, said Charles Franklin, director of the Marquette University Law School Poll, which tracks Walker.
"The coverage of any protests that are there, plus presumably signing the bill and framing that in his own words, is a perfect opportunity for him to play to his strengths," Franklin said.
Recall Survivor
Walker won re-election to a second four-year term in November, two years after becoming the first U.S. governor to survive a recall after his first union fight. His status among Republicans soared, and his victory encouraged talk of a 2016 presidential bid.
Leaders in the Republican-controlled Senate said Friday that they planned to take up the bill this week, even though Walker in December had labeled right-to-work legislation a "distraction." Since then, Walker has said it's appropriate to consider the measure -- and he would sign it -- because his budget and legislative agenda have been set.
The Republican-majority Assembly plans to take up the measure next week.
More than a dozen Wisconsin labor leaders held a news conference Monday to criticize Republicans for proposing the change and trying to rush through a controversial bill. National union groups also started to weigh in against Walker.
Koch Brothers
"Wall Street billionaires and political extremism are joining together to force a vote on right-to-work legislation which is wrong for Wisconsin hardworking families," AFL-CIO President Richard Trumka said in a statement.
Trumka also sought to tie the legislation to the billionaire Koch brothers, who have helped finance Walker's campaigns. "It is simply the next step in the billionaire right wing's attempt to strip our freedoms to bargain with our employers as we see fit, ensure safe work places, and raise wages across the country," he said.
Unable to pass labor-related legislation in Washington, Republicans shifted attention to the states, where the 2008 economic downturn gave governors a new argument for cutting public-worker pension funds and limiting future bargaining rights. Republican-led legislatures have pressed measures that range from stripping bargaining rights to imposing stiff fines for protests and picketing.
Wisconsin Republicans can hope to repeat the example of Michigan, where right-to-work legislation flew through a 2012 lame-duck legislature in one week, with limited debate and without considering it in committee.
New Wave
Twenty-four states already have such laws, most in the South and West, according to the National Conference of State Legislatures. Most were passed in the 1940s and '50s, until Oklahoma approved one in 2001, and Michigan and Indiana in 2012, making inroads in traditionally industrial economies.
The Missouri House of Representatives approved a right-to-work bill this month, and newly elected Illinois Governor Bruce Rauner, a Republican, has called for curbs on union contracts at the local level.
The success of such legislation tracks the continued decline in labor rolls. Union membership in Wisconsin represented 11.7 percent of its workforce in 2014, down from 12.3 percent a year earlier, according to the U.S. Bureau of Labor Statistics.