Viacom Said to Plan Companywide Job Cuts as TV Ratings Decline
Lucas Shaw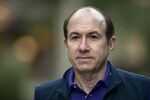 Viacom Inc. will cut staff across the company as it grapples with shrinking audiences and advertising sales at cable channels such as MTV and Comedy Central, according to people with knowledge of the matter.
Viacom is still determining the exact size of the cuts, said the people, who asked not to be named while the deliberations are under way. The company, which employed about 9,900 people at the end of fiscal 2014, plans to invest in expanding its international and online operations.
The company is undertaking a broad restructuring of domestic cable networks, which have already seen some senior executives depart. With its focus on channels like MTV and Nickelodeon that target younger audiences, New York-based Viacom has been hurt by the loss of viewers to Internet media such as YouTube, Facebook and Hulu.
"We have identified specific areas where we can work more efficiently while focusing better on the evolving needs of our customers and audiences," Chief Executive Officer Philippe Dauman said on a Jan. 29 earnings call. "These changes are well under way and will result in substantial net cost savings throughout our organization, while at the same time increasing our focus and investment in areas with the highest growth potential."
Dauman has said Nielsen isn't adequately measuring the audience for its channels, and plans to offer an online version of Nickelodeon to reach fans who aren't watching as much TV. The Wrap.com reported on possible job cuts on Jan. 30.
The audiences at Comedy Central and MTV have declined more than 16 percent this season, according to Nielsen data. BET is down 23 percent and TV Land is down 26 percent. Domestic ad revenue shrank 6 percent in the latest quarter.
As part of the changes, Viacom is merging three units into two, forming a group for music and entertainment programming and another for children and family fare. The changes stem in part from the departure of Van Toffler, who oversaw a group that includes MTV and VH1, who is leaving the company after 28 years. Larry Jones, the head of TV Land, is also departing.
Before it's here, it's on the Bloomberg Terminal.
LEARN MORE