Nasdaq Composite Climbs for Ninth Straight Day as Apple Jumps
Michelle F. Davis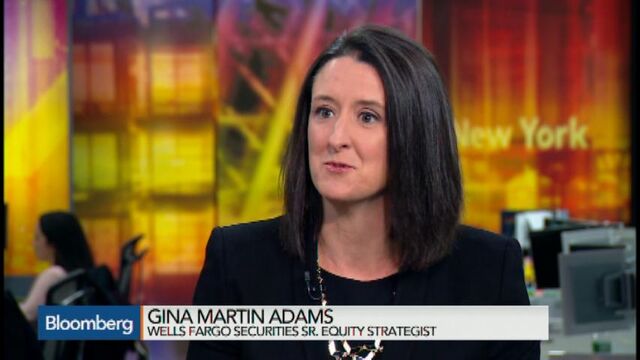 The Nasdaq Composite Index rose for a ninth straight day, the longest rally since 2010, as Apple Inc. jumped. The Standard & Poor's 500 Index was little changed near an all-time high.
The Nasdaq Composite added 0.1 percent at 4 p.m., taking it to within 1.7 percent of a record reached in 2000. Apple jumped 2.7 percent to an all-time high. The S&P 500 fell less than 1 point to 2,109.66. The Dow Jones Industrial Average dropped 23.60 points, or 0.1 percent, to 18,116.84. About 5.9 billion shares changed hands on U.S. exchanges, 14 percent below the three-month average.
"In this market, there's more just a case of waiting and watching Europe, Greece, OPEC, and waiting to hear from Janet Yellen," Richard Sichel, chief investment officer at Philadelphia Trust Co., which oversees $2 billion, said in a telephone interview. "You put all that together, you get a market that doesn't really have much of a direction. It becomes a much more stocks-specific day."
U.S. stocks last week posted their longest streak of weekly gains since the beginning of December as Greece reached a deal to extend its bailout program and investors speculated the Federal Reserve will keep rates lower for longer. The S&P 500 has advanced 2.5 percent in 2015, trailing all but two of the 24 developed markets tracked by Bloomberg.
The S&P 500 climbed 0.6 percent last week and the Dow rose to its first record of the year. The Russell 2000 advanced 0.7 percent, also ending at a record.
Nasdaq, Apple
The Nasdaq Composite has soared 5 percent in nine days to 4,960.97. It is 1.7 percent away from an all-time high reached in March 2000, which preceded a 78 percent drop in the shares.
Apple jumped 2.7 percent to a record after saying it plans to spend 1.7 billion euros ($1.9 billion) to build data centers in Ireland and Denmark. The project, Apple's biggest European investment, lets Apple address European requests for data to be stored closer to local users and authorities, while also allowing it to benefit from a chilly climate that helps save on equipment-cooling costs.
Data today showed sales of previously owned U.S. homes fell more than expected in January as a tight supply forced up prices, showing the residential real-estate market faces an uneven recovery. Purchases slowed 4.9 percent to a 4.82 million annualized rate, the least since April, after a 5.07 million pace that was higher than previously estimated, according to figures from the National Association of Realtors.
Investors will get further clues on the economy's strength this week as Fed Chair Janet Yellen testifies before Congress.
Yellen Testimony
"Yellen meets with Congress this week and there'll be some Fed-watchers looking for direction -- whether they're going to raise rates this summer or not," Bruce Bittles, chief investment strategist at Milwaukee-based RW Baird & Co., which oversees $110 billion, said in a telephone interview.
Strife over Greece's debt was among risks to the U.S. economy cited by Fed officials as an argument for keeping rates low for longer, according to minutes from the group's latest meeting released on Feb. 18. Policy makers said after the gathering that they "can be patient" as they consider when to raise borrowing costs, even as they described the labor market as "strong."
Investors are watching the situation in Greece after the Feb. 20 agreement with creditors. The head of the group of euro-region finance ministers expects Greece to deliver a package of economic measures that will satisfy creditors and avert another emergency round of negotiations.
Greece Deadline
Under the draft agreement, the government had until midnight Greek time to complete a list of policies in return for continued funding. A Greek official said it will be sent to the finance ministers on Tuesday.
The stock rally has pushed the S&P 500 to its highest valuation in five years. The gauge traded at 17.8 times its members' projected earnings at the end of last week, data compiled by Bloomberg show.
While companies have exceeded profit and sales estimates this season, analysts have cut earnings forecasts for S&P 500 members amid a rout in oil prices and a rising dollar. They predict earnings will drop 4.5 percent this quarter, compared with December projections for an increase.
Six of 10 S&P 500 main groups declined on Monday, with telephone and energy companies falling at least 0.4 percent.
Energy companies slid 0.4 percent after earlier nearly erasing a decline of 1.2 percent as the Financial Times reported OPEC may hold an emergency meeting on oil's slide. Crude later resumed its slide below $50 a barrel after Bloomberg News reported the oil-producing nations had no plans for an extraordinary gathering.
Boeing Drops
The Chicago Board Options Exchange Volatility Index added 1.8 percent to 14.56. The gauge, know as the VIX, fell 2.7 percent last week and is on track for its biggest monthly decline since July 2010.
Boeing Co. dropped 2.3 percent, falling from an all-time high reached on Friday, as Goldman Sachs Group Inc. analyst Noah Poponak cut the company to sell from neutral, citing the potential for free cash flow to disappoint and for aircraft demand to slow.
Health-care companies advanced more than 0.3 percent.
Valeant Pharmaceuticals International Inc. climbed 15 percent to the highest ever after saying it will purchase Salix Pharmaceuticals Ltd. for $10.1 billion. Valeant, which was thwarted last year in a long-running quest to buy Botox-maker Allergan Inc., is counting on Salix's Xifaxan getting U.S. Food and Drug Administration approval by May for treating irritable bowel syndrome with diarrhea. Salix slipped 1.3 percent.
Home Loan Servicing Solutions Ltd. rose 9.5 percent after New Residential Investment Corp., a U.S. real-estate investment trust, agreed to buy Home Loan for about $1.3 billion.
Discovery Communications Inc. added 4.5 percent, the most since October, after Australia Financial Review reported that Rupert Murdoch's 21st Century Fox Inc. held merger talks with the company. Discovery and 21st Century Fox denied the merger talks.
Before it's here, it's on the Bloomberg Terminal.
LEARN MORE