U.K. Government Cuts Lloyds Stake in $769 Million Share Sale
Ambereen Choudhury and Richard Partington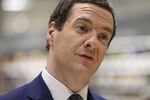 The U.K. government sold a further 500 million pounds ($769 million) of Lloyds Banking Group Plc shares as part of a plan to reduce its stake in the country's largest mortgage lender in the run-up to May's general election.
The latest selldown through a trading plan which started in December puts the government's stake at about 24 percent, the U.K. Treasury said in a statement on Monday. Lloyds shares were sold in the market above the average price the previous government paid for them, which was 73.6 pence a share, it said.
U.K. Chancellor of the Exchequer George Osborne told Parliament's Treasury Committee in December the government will "gradually" sell its stake over six months, while pledging not to take any losses. He's seeking to convince voters his Conservatives are best-placed to shepherd Britain's economy as polls show the party neck-and-neck with Ed Miliband's Labour.
"This is further progress in returning Lloyds Banking Group to private ownership, reducing our national debt and getting taxpayers' money back," Osborne said in the statement.
The stock rose 1.6 percent to 79.23 pence at 11:17 a.m. in London trading. The shares are up 4.5 percent this year.
Chief Executive Officer Antonio Horta-Osorio, 51, is seeking permission from Britain's Prudential Regulation Authority for Lloyds to announce its first dividend since 2008 when the bank reports annual results for 2014 on Friday. A potential 500 million-pound provision to compensate customers sold insurance they didn't want or need may undermine progress in boosting profitability at the lender.
The government's trading plan, announced Dec 17, is the third step it has taken to reduce its stake in Lloyds, after selling shares worth a total 7.5 billion pounds in March last year and September 2013. It spent about 20.5 billion pounds to bail out the lender during the financial crisis.
Osborne hasn't been able to cut the government's 80 percent stake in Royal Bank of Scotland Group Plc, which received a 45.5 billion-pound rescue, the biggest bank bailout in history. The shares are trading for less than the government's 407 pence break-even price. The bank may take a decade to return the money, CEO Ross McEwan has said.
Before it's here, it's on the Bloomberg Terminal.
LEARN MORE