The Quiet Man Who Made Big Trouble for Little Luxembourg
Stephanie Bodoni and Tom Mackenzie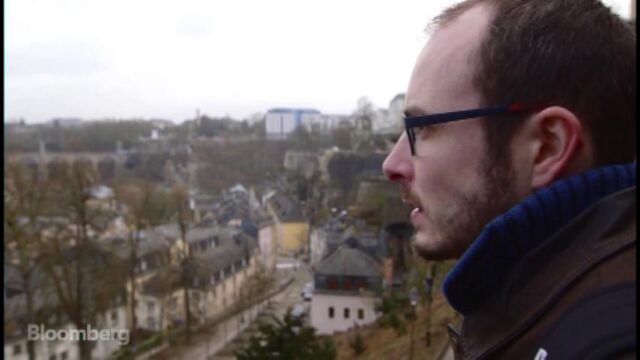 Antoine Deltour sees himself as "just a little auditor" who copied some tax files. Now he may face jail after those documents helped send a shock wave through Luxembourg that is reverberating across the European Union.
Deltour became disillusioned with what he saw in his auditing job at PricewaterhouseCoopers LLP in Luxembourg and in 2010 decided to quit. On the way out, he took along a copy of an internal folder containing hundreds of confidential tax agreements between the Grand Duchy and multinational companies.
"Sometimes I think about it during the night," Deltour said in a Feb. 17 interview in Luxembourg when asked whether the prospect of a jail sentence worries him. "What I did is in the public interest. I don't understand why I could be the victim of a strong sentence if I acted in the general interest."
A Luxembourg judge, acting after a 2012 complaint by PwC, on Dec. 12 charged Deltour with theft, violation of business secrets and fraudulent access to a data base. That was just over two weeks before his 29th birthday. The most serious charge carries a potential sentence of five years in prison.
Deltour, a quiet man who describes himself as a "normal guy," gave a copy of the documents to French journalist Edouard Perrin who used them in a 2012 France 2 documentary on tax avoidance in Luxembourg. The same documents were put online by the International Consortium of Investigative Journalists last year, as part of the so-called LuxLeaks revelations.
Leaked Documents
The ICIJ in November and December revealed more than 28,000 pages of leaked documents that showed international corporations effectively lowered their tax bills to less than 1 percent of profit in Luxembourg through the arrangements, known as tax rulings. Most of the deals were done during the 18-year tenure of Jean-Claude Juncker as the nation's prime minister. Juncker is now president of the European Commission, which is probing tax deals in Luxembourg and other EU countries.
Juncker has sought to rebut claims he presided over sweetheart tax deals, though he says he was "politically responsible" as leader of the nation. Luxembourg Finance Minister Pierre Gramegna in November called the leaked tax rulings a "tsunami" that "totally astonished" him. The Grand Duchy has since vowed to rein in sweetheart tax deals and passed a law that will make the "tax-ruling procedure clear and predictable."
In a Bloomberg interview in December, Gramegna said LuxLeaks was a "game changer" that led EU regulators to expand a probe into such deals across the 28-nation bloc. The European Parliament this month voted to set up a special committee to investigate tax deals by EU governments.
'Justification'
The reactions to LuxLeaks constitute a "justification of what I did," said Deltour, wearing glasses and a wool sweater under a brown jacket.
PwC has a different view, noting in a Dec. 16 statement that Deltour has admitted to theft and has been charged with five criminal offenses. A PwC spokesperson on Feb. 20 declined to comment beyond the December statement, which also says the company "remains firmly committed to protect the confidentiality of its clients' documents and data."
In 2008, he moved from his native France to Luxembourg for an internship with PwC. A few months later, he got a contract as an auditor, reviewing the accounts of Luxembourg-based companies, Deltour said while walking around the city's historic downtown.
'Industrial Scale'
"I discovered that in some holdings I was reviewing, the accounts paid only 2 percent or 3 percent of effective tax rates," Deltour said. "What is happening here has industrial scale."
"I felt injustice -- not anger, but injustice. In a period of crisis, most Europeans face difficulties to collect taxes just to balance their budgets," he said. "I believe that it's very unjust that some countries contribute to practices that are not fair."
He decided to leave and find a job "that made more sense" to him. Deltour, who now lives and works as a civil servant in Nancy, France, about 75 miles south of Luxembourg, said he never planned what he did next.
"When I resigned, I went through documents on the network of the firm," he said. "Then I discovered that there was a folder containing hundreds of tax rulings. Then I decided to copy them."
The file "was accessible to anyone working at PwC," he said. "I didn't have any precise idea what I will do with this information. I knew it was important for both Luxembourg and PwC."
'Important'
Deltour, who has no criminal record, said he had never done anything like it before.
"I remember that I was nervous," he said. "I was aware that these documents were important, that's why I didn't want to keep them only to myself because I didn't have the competences to" find out what the cache of files "disclosed of the practices."
Months later he was approached by the journalist Perrin and agreed to give him the file, which eventually ended up with the ICIJ without Deltour's knowledge, he said.
"I discovered the ICIJ had the documents" and the organization had decided to put them online, he said. "I understood that I contributed to something important that helped to change things. That's what we need now."
It never crossed Deltour's mind that he would end up in court. "PwC found evidence of a simple copy-paste two years after" he left, said Deltour. "I hoped they wouldn't find it. But they identified me. I take full responsibility for what I have done," he said, adding that "I told everything I have to tell."
Full Lists
The European Commission last year announced probes into agreements struck by Amazon.com Inc. and Fiat Finance & Trade in Luxembourg, as well as ones by Apple Inc. in Ireland and Starbucks Corp. in the Netherlands. All the companies have said that they acted within the law. The ICIJ's revelations prompted the EU regulator to call for full lists of companies that obtained tax rulings from all the bloc's 28 member nations.
Edward Snowden, who leaked classified documents revealing the surveillance activities of the National Security Agency, and WikiLeaks founder Julian Assange, who has sought refuge in the Ecuadorian embassy in London, were last year described as "celebrities" by Google Inc. Chairman Eric Schmidt.
Not a 'Celebrity'
Deltour said he doesn't see himself as a celebrity and doesn't want to be one.
"I never followed examples," said Deltour. There is only my lawyer who says that I'm the French cousin of Edward Snowden. I think what he did is much more important than what I did. I believe he contributed to democracies and I hope I do the same with LuxLeaks.''
Deltour said he has been "in contact with other leakers" since he went public, including Herve Falciani, who allegedly stole client-account details from HSBC Holdings Plc's Swiss private bank and gave them to the French government.
"There is a connection in the issues concerned. Both stories are about tax avoidance and maybe tax fraud," he said. "The stories are also different because SwissLeaks is about individuals and LuxLeaks is about corporations."
Unlike Falciani, Deltour said he hasn't received any death threats, although there have been "some very aggressive comments" in the Luxembourg press.
"Maybe I should be afraid," he said.
Before it's here, it's on the Bloomberg Terminal.
LEARN MORE