Rousseff's Fiscal Austerity to Pave Way for Brazil Recovery
Raymond Colitt and David Biller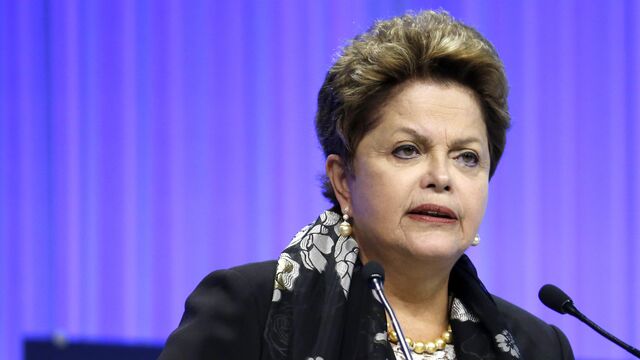 Austerity is changing the lives of Brazilians, jacking up the cost of living on items from credit cards to gasoline. It also may clean up the country's economic mess and pave the way for a recovery.
Governments at all levels are trimming spending as President Dilma Rousseff seeks to avoid a credit-rating downgrade following the end of a decade-long commodities boom. Cheap loans, rising wages and tax breaks that fueled shopping sprees in Miami and made Brazil the world's fourth-biggest market for cars have given way to reduced labor and pension benefits and rising interest rates. Taxes are climbing on products from lipstick to fuel, even as international oil prices tumble.
The feeling of malaise may deepen before it eases, as the pace of job creation slows, interest rates surge and a brewing corruption scandal at the state-run oil producer dominates headlines. Yet the cutbacks sparking protests now and threatening Rousseff's popularity have the potential to revive growth and spark a market rally as early as this year, said Alberto Ramos, managing director at Goldman Sachs & Co.
"This is not going to fix the economy overnight, probably not even in a year," Ramos said. "But as the measures are announced, the results start to emerge and the rhetoric remains in the right place, the market will improve."
The Ibovespa benchmark stock index has increased 2.6 percent to 51,281 points in 2015 and will jump to 56,000 by year-end, according to UBS Securities LLC.
'Bring Money'
"There's an immense amount of bad news priced into the market now," said Geoffrey Dennis, the bank's head of global emerging-market strategy. "The impact of the improvement on the fiscal side will bring money back into fixed income and some of that will spill into equity."
The pending recovery makes Brazilian equity funds the "must-have" for 2015, said Rodolfo Riechert, chief executive officer of Brasil Plural, which manages 20 billion reais ($7 billion) in assets.
The economy will expand 1.5 percent in 2016, following a contraction of 0.5 percent this year, according to the latest central bank survey of analysts. Mark Mobius, executive chairman of Templeton Emerging Markets Group, said Brazil could even grow 3 percent to 4 percent in 2016.
Markets Sank
During the 2014 presidential-election campaign, equity markets sank every time Rousseff rose in public-opinion polls because investors were concerned she would continue policies that almost tripled the budget deficit in her first term and fanned inflation rates already above the target of 4.5 percent.
Standard & Poor's in March 2014 cut Brazil's ranking to one level above junk and Moody's Investors Service six months later lowered the outlook to negative on its Baa2 score, the second-lowest investment grade.
After winning re-election in October by the narrowest margin since at least 1945, Rousseff vowed to tame consumer prices and boost investor confidence, implementing austerity policies. She started her about-face in November when she appointed as finance minister Joaquim Levy, a University of Chicago-trained economist known by peers for his propensity to cut spending when he was Rio de Janeiro state finance secretary.
Once in office, Levy trimmed the amount the government can spend a month on some items by about a third and raised taxes on fuel, imports, credit and cosmetics. He boosted the primary budget-surplus target, which excludes interest payments, to 1.2 percent of gross domestic product this year from a deficit of 0.6 percent in 2014.
'Grit' Required
"It's not my inclination to promise quick and easy solutions and say everything is fine," Levy told investors in Sao Paulo on Feb. 23. "We need to have a bit of grit."
The biggest winners in 2015 may be bond investors, as austerity initially does more to allay creditor risk than it does to stimulate expansion, said Enestor dos Santos, principal economist at Banco Bilbao Vizcaya Argentaria.
Following a 2.9 percent drop in the last six months, Brazilian bonds now look attractive compared with some other sovereigns that have the same credit rating. The bonds offer an extra yield of 318 basis points over U.S. Treasuries, or 71 basis points more than South Africa's, which shares Brazil's BBB- rating at S&P. On Aug. 22, the Brazilian securities yielded 10 basis points less.
Petrobras Allegations
Still, Brazil's recovery faces several pitfalls. Allegations of kickbacks at state-run oil producer Petroleo Brasileiro SA are weighing on credit and equity markets. Investigations into the charges threaten to further unnerve investors, said Pedro Paulo Silveira, chief economist at brokerage firm TOV Corretora.
Maria das Gracas Foster resigned as CEO on Feb. 4, a day before allegations surfaced that $200 million in company funds were illegally diverted to the ruling Workers' Party. Opposition legislators in a congressional inquiry seek to determine the responsibility of Rousseff, who was chairman of the company from 2003 to 2010. The party says all donations were legal; Rousseff and Foster deny any wrongdoing.
Petrobras's share price has fallen 62 percent from last year's peak in September, and Fitch Ratings on Feb. 3 cut the company one step to BBB-, the lowest level of investment grade, and placed the rating on negative watch.
The scandal, coupled with consumer price increases, have diminished Rousseff's popularity and raised doubts about her austerity pledge.
'Real Test'
"The real test of her resolve is yet to come," said Joao Augusto de Castro Neves, an analyst at political-risk consulting company Eurasia Group.
Rousseff's approval rating slumped 19 percentage points since December to 23 percent, the lowest of any Brazilian president in 15 years, according to a poll conducted by Datafolha on Feb. 3-5. Demonstrations against corruption and welfare reductions flared up in several cities in the last two months, with some protesters calling for Rousseff's impeachment.
The president's press office didn't comment on the poll and her commitment to trim spending.
Some Brazilians who voted for Rousseff say they feel betrayed. Three days after her re-election, the central-bank board, which can be sacked by the president at any time, raised benchmark borrowing costs for the first time in half a year, a u-turn from Rousseff's campaign warning that higher rates would slow growth and increase unemployment.
Budget Constraints
"She said the working class wouldn't bear the burden of adjustments -- well, it doesn't feel like that," Silvio Ferreira, a 43-year-old construction foreman, said at a Brasilia gas station after seeing fuel prices rise 7 percent.
Ferreira isn't alone. Teachers in Brasilia protested in December when the local government delayed paying their salaries because of budget constraints, and Rio de Janeiro state civil servants had their bonuses capped and use of water and phones restricted in public buildings.
Possible energy and water shortages caused by a drought in southeastern Brazil could slow economic growth further and elevate consumer prices, according to UBS AG. Even so, its base scenario assumes the government won't have to ration electricity in 2015 as it did in 2001.
Inflation will accelerate this year to 7.33 percent, according to economists surveyed by the central bank, as the government raises regulated prices on items such as electricity and public transportation.
Tony Volpon, head of emerging-market research for the Americas at Nomura Securities International Inc., said tighter fiscal policy and a "much stronger" central-bank commitment to slow inflation will probably lead consumer price increases to approach target in 2016. Volpon, who in 2014 criticized Rousseff for failing to contain inflation, was appointed as a central-bank director this month.
Over the past decade, Brazil has proven its capacity to react to crises with a spurt in economic growth, said Marcos Troyjo, who teaches and co-heads a forum on emerging markets at Columbia University in New York.
"It'll be a tough 12-18 months," he said. "After that, there'll be a golden window of opportunity in Brazil."
Before it's here, it's on the Bloomberg Terminal.
LEARN MORE