Red Sox Sign Moncada for Record International Amateur Bonus
Erik Matuszewski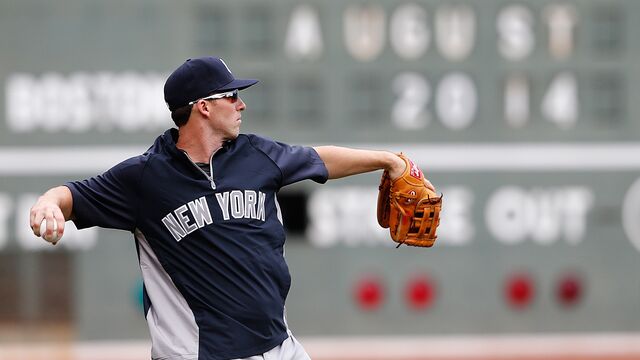 The New York Yankees lost 19-year-old Cuban prospect Yoan Moncada to the Boston Red Sox by roughly the same amount of money they'll pay Stephen Drew this season.
The Red Sox gave Moncada a $31.5 million bonus, according to MLB.com, breaking the previous record of $8.3 million given to an amateur baseball player from outside the U.S. Boston's offer bested the Yankees' bid of about $25 million for the switch-hitting infielder, MLB.com said.
The Yankees' reluctance to boost their offer for Moncada is another indication the front office is being more cautious about spending, said Wayne McDonnell, the academic chairman of sports management at New York University. The Yankees, tied to several big-money contracts that have made them susceptible to age and injuries, would have had to pay a 100 percent of baseball's luxury tax on the bonus that would have pushed the total cost to land Moncada above $60 million.
"This is a team that knows they have a lot of money committed to aging ballplayers," McDonnell said by telephone. "The last thing they wanted to do was get $60 million into the hole on an untested 19-year-old talent from Cuba."
Moncada may be several years away from playing at the Major League Baseball level, yet MLB.com said he would have been the potential No. 1 pick in this year's first-year player draft if he was eligible. Boston's investment in Moncada will be about $63 million, according to MLB.com, as they exceeded their pool of bonus money for international signings.
Not Drafted
Cuban players aren't part of baseball's system for the annual draft and Moncada is widely regarded as talented as players such as Yasiel Puig, Yoenis Cespedes and Jose Abreu, who was unanimously voted the American League Rookie of the Year last season. Puig, Cespedes and Abreu, who had signed a six-year, $68 million contract with the Chicago White Sox, all played baseball in Cuba professionally.
"I don't think anybody disagrees with the ability," Yankees General Manager Brian Cashman was quoted by MLB.com as saying about Moncada, who worked out for the team three times in Tampa, Florida. "It just comes down to how much money you're willing to commit. We put our best foot forward."
The Red Sox also delved into the international market last year, when they signed outfielder Rusney Castillo, who played professionally for five seasons in Cuba, to a seven-year contract worth $72.5 million. Moncada, who was granted a visa and passport by the Cuban government, was ruled a free agent by MLB earlier this month and worked out for at least 10 teams, including the Red Sox and Yankees.
Tax Effect
The total amount the Yankees would have had to pay for Moncada, who first played in Cuba's national amateur tournament two years ago at the age of 17, is similar to the $61 million in guaranteed base pay due to Alex Rodriguez over the next three seasons. Rodriguez, a three-time AL Most Valuable Player coming off the longest performance-enhancing drug-related suspension in the sport's history, turns 40 this season.
Yankees Managing General Partner Hal Steinbrenner in recent years said he wants to keep player payroll below MLB's luxury tax limit, which last season was $189 million. The Yankees surpassed that with the addition of Japanese pitcher Masahiro Tanaka and had a $18.3 million luxury tax bill in 2014. The record 27-time World Series champions have paid more than $270 million in luxury taxes since 2003, when the threshold was instituted to help the sport's competitive balance.
Starting Pitchers
Rather than pursue one of baseball's top free agent starting pitchers -- Jon Lester, Max Scherzer or James Shields - - this offseason, the Yankees acquired Nate Eovaldi from the Miami Marlins. They re-signed Drew, a 31-year-old infielder who hit .162 in 271 at-bats last season, at a $5 million salary this season. The Yankees this year are paying first baseman Mark Teixeira, 34, and pitchers CC Sabathia, 34, and Tanaka, 26, more than $22 million each in base salary.
Tanaka was an All-Star in his MLB debut, going 13-5 with a 2.77 earned run average, yet missed most of the second half of the season with a ligament tear in his pitching elbow.
While the Yankees have had success with international signings such as Orlando "El Duque" Hernandez from Cuba and Hideki Matsui from Japan, they've also struck out with players such as Hideki Irabu and Kei Igawa, both Japanese pitchers.
"What we're seeing here is the Yankees being run more like a business these days than they were under George Steinbrenner, where he really ruled by emotion," McDonnell said of the team's late owner. "There were players where Steinbrenner said, 'I want this player, I'll do it at all costs.' The Yankees have learned a lot of valuable lessons."
No Cap
While the addition of Moncada doesn't count against a major-league team's salary cap, the tax hit is significant for clubs over the limit for international bonus pool expenditures. Ultimately, the Yankees didn't match the rival Red Sox.
"This wouldn't have just been a $25 million or $30 million deal for the Yankees," McDonnell said. "The Yankees are already deeply committed to a lot of ballplayers with some big bulk on the contracts. Moncada is 19 years old, we don't know if he really has a natural position in the infield just yet and he's probably going to need some seasoning at the minor-league level. And that's a lot of money you're putting in."
Before it's here, it's on the Bloomberg Terminal.
LEARN MORE