Leading from Behind: How Years of Denials Got Scott Walker In Position to Approve Right-to-Work
The Wisconsin governor is ready to sign a bill he insisted he'd never get a chance to sign.
By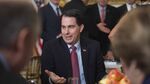 In Washington and New York, the middle of February has been covered as a slack, gaffe-ridden period for Wisconsin Governor Scott Walker. In Walker's home state, none of that's true—he's actually en route to a triumph. The state's Republican-run legislature is gearing up to pass right-to-work legislation, forbidding labor unions from requiring dues or membership as conditions for any private-sector employment. "If this bill makes it to his desk," gubernatorial spokeswoman Laurel Patrick told Bloomberg, "Governor Walker will sign it into law."