Kleiner Sexism Trial Is She Said-He Said Over Tryst Gone Bad
Karen Gullo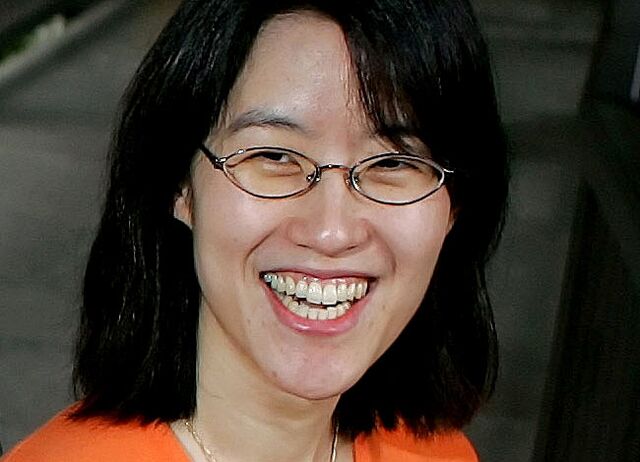 One-time venture capitalist Ellen Pao claims she was a victim of a male-dominated culture at Kleiner Perkins Caufield & Byers, where she says women were harassed, discriminated against and told not to complain.
Now, three years after her lawsuit cast a spotlight on the dark side of Silicon Valley, Pao's credibility will be on the line when she tells her story to a jury.
Pao had a months-long affair almost a decade ago with a married male colleague who rose at the firm while promotions and raises eluded her. Kleiner and Pao agree on that much. Why she engaged in the relationship and didn't succeed at Kleiner is very much in dispute.
Pao, 45, will need to convince jurors she was pressured to have sex by a co-worker who, she says, had a strong influence over how other Kleiner partners viewed her and spent five years retaliating against her when she broke off the affair. She complained to managers and in return was passed over for promotions and pay, and was eventually fired in 2012, she said.
Kleiner contends the affair was consensual and Pao never complained about the conduct of her colleague until she hired a lawyer five years later. She didn't like her job and clashed with coworkers, according to Kleiner, and was advised to leave because she lacked leadership skills and performed poorly.
Jury Selection
A 12-person jury was selected Monday in state court in San Francisco. The panel of five men and seven women includes a regional transit operations manager, a physical therapist, a male prison nurse, a Genentech Inc. manager, a painter and a teacher's aide. Several technology workers were excused from the jury. Opening arguments in the trial will begin Tuesday.
Gender discrimination cases against high-profile companies are usually settled before trial, making Pao's case a rarity.
Wall Street brokerages including Morgan Stanley and Merrill Lynch & Co. paid tens of millions of dollars to settle sex discrimination claims rather than go to trial.
With such divergent accounts, the verdict will depend on whether Pao can show the affair was unwelcome and that the firm treated women unfairly and ignored her complaints. Both sides may call Kleiner partners to testify about Pao, as well as the company's compensation policies, its treatment of women partners and life at the firm.
"It's her word against theirs, so her credibility will be under scrutiny," said Kevin Whittaker, an attorney at Reed Smith LLP who defends employers in discrimination lawsuit and isn't involved in the case.
Pao is seeking as much as $16 million in salary and bonuses she says she lost because Kleiner didn't promote her and paid her less than male co-workers, including denying her a share in profit from the firm's investments. She also claims she's entitled to punitive damages because Kleiner's conduct was malicious.
'Huge Gaps'
"What is surprising about the case isn't so much that it happened but that it's still pending," said Linda Friedman, an attorney who represented women who settled cases against Merrill Lynch and Smith Barney. "Most of these industries that have huge gaps in wages and promotion discrepancies, they resolve it quickly, get it into mediation."
Kleiner failed to convince a judge that Pao should move her claims to arbitration, which wouldn't be conducted in public like a trial. The two sides tried mediation.
"To say it was nonproductive would be an understatement," Lynne Hermle, an attorney for Kleiner, said at a Feb. 2 court hearing.
Too Confident
The failure to resolve the case before trial could mean Kleiner is too confident in its defense or that Pao is seeking too much money, said Spencer Hamer, a labor and employment law attorney who isn't involved in the case.
To win a payout, Pao must demonstrate she was deprived of income and earning potential when her career ended at Kleiner. She joined the microblogging company Reddit Inc. in 2013 and became interim chief executive officer last year. Kleiner has alleged she may be trying to delay a promotion and raise at Reddit to keep her pay low so she can seek more damages.
Junior Partner
The jury will hear Pao's allegations that Ajit Nazre, who, like her, was a junior partner in 2005, made inappropriate sexual approaches to which she "eventually succumbed." She says senior partners urged her to drop the matter or did nothing when she complained.
Nazre, who left the firm in 2012 and works in India, said by text message that Kleiner has denied Pao's allegations about him and referred questions about the case to the firm. He isn't a defendant in the case.
Pao also claims women were marginalized throughout her tenure, excluded from outings on private jets to ski resorts, left out of important dinners with portfolio company executives and interrupted or ignored at meetings.
Judge Harold Kahn, who will preside over the trial, said Pao can present evidence that women were underrepresented on Kleiner's board and tell the jury that a male partner gave Pao a book with sexual content and asked her to dinner. Pao says the partner retaliated when she refused.
Independent Investigator
An independent investigator who looked into Pao's claims found them to be meritless, Kleiner says. Pao admitted that she was interested in a long-term relationship with Nazre, and "twisted facts and events" to create legal claims where none existed, the firm said in court filings. She wasn't promoted because of "repeated and widespread performance concerns," Kleiner said.
Citing poor performance is a common defense by employers accused of denying promotions and raises, Hamer said. Kleiner will need documentation -- complaints or e-mails showing Pao wasn't performing -- to convince the jury.
"If they don't have the data underneath, it gets harder for them," he said.
The trial, expected to last as long as five weeks, may force Kleiner to disclose details about its operations that venture capital firms typically keep out of the public eye. The firm asked Kahn to close the courtroom to the public for parts of the trial dealing with its financial performance and partners' pay. Kahn hasn't ruled on that request.
"No company, whether it's a Silicon Valley company, a local business or an international employer, wants that type of evidence aired in the public arena," Whittaker said. "It's bad public relations, whether it's true or not. There will be ramifications, people will be talking about its reputation."
The case is Pao v. Kleiner Perkins Caufield & Byers LLC, CGC-12-520719, California Superior Court (San Francisco).
Before it's here, it's on the Bloomberg Terminal.
LEARN MORE