Fashion
How to Get Eddie Redmayne's Oscar-Winning Hairstyle
The actor's stylist tells us the secret of his trademark, gravity-defying 'do
By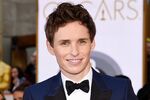 For the past few months, on almost every single awards season red carpet, Eddie Redmayne has been a welcome fixture. His taste in suits is impeccable: He wore an Alexander McQueen tuxedo at the Oscars and Gucci at the Golden Globes—and both were excellently tailored to his narrow frame. But just as reliable is his carefully tousled hair, which sweeps up from his forehead like a wave and swirls around like the most flattering bedhead you've never woken up with. 

Knowing that such a perfectly disheveled look is no accident, we went right to the source to find out how last night's Oscar winner accomplishes this feat of hairstyling. Celebrity groomer Amy Komorowski works with Redmayne and was with him yesterday to get the actor ready for the big night. "The key is to let the hair almost completely air-dry," she says. "Then use hairdryer to add volume and to set hair." Below, Komorowski's step-by-step guide:
Step 1:
While hair is wet, apply a firm holding cream to reduce frizz and strengthen curls. The cream acts as a base and adds grip and texture, so you don't have to use a ton of products. (Komorowski recommends Kevin Murphy Easy.Rider Crème, Oribe Creme for Style, or Axe Cooling Style Cream.) Make sure you spread it throughout the entire head of hair, from roots to ends. Really get in there using a back-and-forth motion with hands. Then, style your hair as you want it to look and let it air-dry almost completely. This assures that it won't be too poufy or overly done.

Step 2:  
Lightly blow-dry on low to medium speed, which will set the hair and add a bit more volume and shine to the front and top. You don't want to blast the hair and mess it up, simply angle the dryer at a comfortable distance and give it a minute to dry thoroughly. (Komorowski suggests using an ionic hairdryer like the T3 Featherweight Luxe 2i.) No brush is needed—just use your hands to get in at the roots. You can be a bit rougher on the sides and back, where you want more of a controlled messiness.
Step 3: 
Lastly, use a paste (like Oribe Rough Luxury Soft Molding Paste or Kevin Murphy Night.Rider) for extra-lasting hold and to create texture and separation. Use your fingers in a short back-and-forth motion at the roots to create a roughness. The hair can be placed in haphazard directions. It shouldn't be too perfect: Tousled but polished is the look you're going for.
Step 4: 
Go out there and win an Oscar.
Before it's here, it's on the Bloomberg Terminal.
LEARN MORE