Edward Snowden's Hollywood Moment Is Here
As an Edward Snowden documentary wins an Oscar, the whisteblower prepares for a Hollywood moment.
By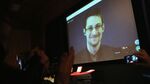 The Oscars had a way of looking a lot like a Hollywood pep rally for Obama. Favored topics on Sunday evening included equal pay, the Voting Rights Act, and the plight of immigrants, with politicos firing up their Twitter accounts to support or condemn the almost invariably progressive talking points. But one of the new darlings of Hollywood likely didn't garner enthusiasm at the White House: Edward Snowden.