New Defense Chief Reexamines the Strategies Behind Obama's Wars
David Lerman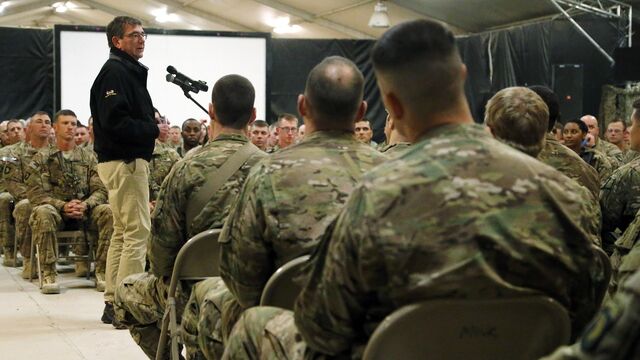 U.S. Defense Secretary Ashton Carter used his first overseas trip as the Pentagon's new chief to reexamine the strategies and tactics behind President Barack Obama's wars in Afghanistan, Iraq and Syria.
Staking out independent ground that his predecessor, Chuck Hagel, never seized, Carter walked a fine line between endorsing the president's core principles and signaling a desire for some tactical adjustments that other officials say reflect the realities on the ground in the three countries.
In Afghanistan, Carter offered President Ashraf Ghani increased flexibility in the U.S. timetable for the withdrawal of troops. Carter, 60, who took office last week, also organized an unusual brainstorming session in Kuwait on Monday that reached beyond the Pentagon to seek a broader perspective on the progress of the battle against Islamic State forces in Iraq and Syria.
Even as he seeks some improvements, Carter remains committed to Obama's basic strategy against the extremist Sunni Muslim force that's declared a self-styled caliphate, or religious state, said a defense official who attended the gathering and spoke on condition of anonymity to discuss private deliberations.
Carter, who holds a doctorate in theoretical physics, also displayed a penchant for posing the same analytical questions Obama often asks aides: What happens next, and what happens after that? In Iraq, some current and former U.S. officials say that it would be unwise to launch a major counteroffensive against Islamic State until it's clear who would secure and govern areas liberated from the extremists.
Six-Hour Review
In Kuwait on Monday, Carter brought together about 30 U.S. military, intelligence and diplomatic officials from across the Middle East and beyond for a six-hour gathering at Camp Arifjan, a major U.S. Army base south of Kuwait City. In brief opening remarks before reporters were ushered out, he called the gathering "Team America in this region."
"It's not a purely military problem," Carter said of the threat posed by Islamic State forces. "It's a political-military problem, and that's why I wanted to get the whole team."
Emerging from the review, the veteran Defense Department official pointed to some potential holes in the existing plan to defeat Islamic State.
"Lasting defeat of this brutal group can and will be accomplished," Carter said. "But I learned some things that we'll need to guide our effort to do so."
While avoiding specifics, he emphasized the need for "a combined diplomatic and military effort" and a desire to get some countries of the U.S.-led coalition against Islamic State to do more. He didn't name names.
Extremist Recruiting
Carter also signaled his concern about the spread of Islamic State forces beyond Iraq and Syria and said a more aggressive effort is needed to combat the group's skillful use of social media to lure new recruits.
Carter's decision to convene the group at Camp Arifjan doesn't reflect concerns about the current strategy, according to a second defense official who briefed reporters Sunday on condition of anonymity to discuss private deliberations. Instead, the new secretary wants to better understand its underpinnings and rationale, the official said.
Yet Carter, who promised at his confirmation hearings that he would offer his own views to the president, left himself room to diverge from current policy.
Republican Critics
While Obama has promised not to return U.S. troops to ground combat in Iraq, Carter stopped short of ruling out the option when he was asked at a meeting with U.S. troops Monday whether he could envision American forces combating Islamic State fighters on the ground.
"We need to be convinced that any use of our forces is necessary, is going to be sufficient, that we've thought through not just the first step but the second step and the third step," Carter said. "We have to make sure we think things through several steps in advance. That's difficult to do. It's one of the reasons why I'm here today."
Republicans in Congress have criticized Obama for not adopting a more aggressive posture against Islamic State.
John McCain of Arizona, chairman of the Senate Armed Services Committee, has called for greater use of air power in Syria, the creation of a no-fly zone and sending arms to moderate Syrian rebels fighting both Islamic State and the Syrian government.
After more than 2,500 airstrikes against Islamic State targets in Iraq and Syria over the last six months, the administration is now planning an offensive with Iraqi forces this year to retake the city of Mosul, which Islamic State captured in June.
Training Iraqis
The U.S. Central Command, which oversees military operations in the Middle East, outlined plans last week for using 20,000 to 25,000 Iraqi troops to defeat 1,000 to 2,000 Islamic State fighters occupying Iraq's second-largest city. U.S. advisers plan to train the Iraqi forces before the operation could begin.
Carter's first stop on the five-day trip was Afghanistan, where he took a step toward calls by Republicans to adopt a slower timetable for withdrawing troops in America's longest war.
Following a meeting with Ghani, the Afghan president, Carter told reporters that the Obama administration is willing to reconsider its plan to pull out almost all U.S. forces by January 2017.
"Our priority now is to make sure this progress sticks," Carter said, citing political and military gains by Afghanistan over the past two years. "That is why President Obama is considering a number of options to reinforce our support for President Ghani's security strategy, including possible changes to the time line for our drawdown of U.S. troops."
Afghan Doubts
The review reflects doubts about whether the Afghan military, undermined by factionalism and equipped with only rudimentary combat aircraft, can secure the country on its own. The U.S. has failed to root out Taliban insurgents after 13 years of war in which more than 2,300 Americans have died.
Obama's timetable calls for drawing down to about 5,500 troops by the end of this year from about 10,000 now. The president has pledged to bring home all but a small contingent of troops to guard the U.S. Embassy in Kabul by the time he leaves office in January 2017.
Some U.S. military and intelligence officers and diplomats say that such a rapid withdrawal would leave the Afghans with little or no logistical, intelligence, air or medical support.
No decisions have been made on whether any changes should be made to Obama's plan, which was announced last year. Ghani will discuss the issue of adequate troop levels with Obama on a visit to Washington next month, Carter said.
'Another Look'
The reassessment "could mean taking another look at the timing and sequencing of base closures to ensure we have the right array of capabilities," Carter said at a joint press conference with Ghani after their meeting. "We are discussing and rethinking details of a counterterrorism mission and how the environment has changed here," he said, without elaborating.
While the U.S. proclaimed the end of combat operations in December, its new mission -- using a smaller force -- entails training Afghan troops and conducting counterterrorism operations. The top U.S. commander in Afghanistan, General John Campbell, told Congress last week that he's providing options on adjusting the pace of withdrawal of U.S. troops from Afghanistan.
Campbell said Saturday that the options for a slower withdrawal plan focus mostly on 2015 and 2016 while "working within" Obama's goal of removing almost all troops by the end of his presidency. That goal could still be re-examined, the general said.
"In the end, that may be part of the review," Campbell said at a briefing at his Kabul headquarters.
Meeting Participants
In Kuwait, participants in the strategy session on Islamic State included Lieutenant General James Terry, the top commander of U.S. forces for Iraq and Syria operations; General Lloyd Austin, commander of the U.S. Central Command; General Philip Breedlove, head of U.S. European Command and NATO's supreme allied commander for Europe; and General David Rodriguez, commander of U.S. Africa Command.
On the diplomatic side, participants included retired Marine General John Allen, the special presidential envoy for the coalition to defeat Islamic State; Brett McGurk, Allen's deputy, and Daniel Rubinstein, special envoy for Syria.
"Today's meeting was very productive and very valuable," Carter said at his press conference. "You should expect to see more consultations like this by me in the future."
Before it's here, it's on the Bloomberg Terminal.
LEARN MORE