Boyhood Triumphs as a Political Film Without Trying To
Richard Linklater didn't set out to create a political film, which may be the reason he wound up with such an astute one.
By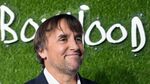 The director of Boyhood, which was nominated for Best Picture, among other awards, at the Oscars Sunday night, says it's not a political movie. But in its revolutionary narrative and structure, filming a few scenes every year over 12 years to chronicle childhood and adolescence, the film incorporates the culture of the 2000s as its background noise, and part of that culture was political.