AngloGold Vows to Only Sell Mines for 'Full Value,' CEO Says
Kevin Crowley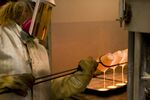 AngloGold Ashanti Ltd., the world's third-largest gold miner, is under no pressure to sell assets and will only do so for "full value," Chief Executive Officer Srinivasan Venkatakrishnan said.
The partial or full sale of one of the company's key operating assets "is being looked at and progressed," Venkatakrishnan said on a conference call on Monday. That forms part of the Johannesburg-based company's plan to cut net debt by about $1 billion over the medium term.
"What we are not going to be doing is a fire sale of assets," he said. "The shop is closed for bargain hunters. If we don't get full value, we won't sell."
AngloGold is seeking to sell mines or share capital costs with partners in a bid to reduce its $3.1 billion of net debt, partly accumulated during the decade-long bull run in gold to 2011. The company shelved a plan to split its South African operations from international assets in September when investors including hedge-fund billionaire John Paulson balked at the size of an accompanying $2 billion share sale.
AngloGold's shares dropped as much as 8.7 percent, the most in more than two months, and traded down 6.7 percent to 127.52 rand as of 1:20 p.m. in Johannesburg. Gold fell 0.7 percent to $1,193.63 an ounce in London, while the five-company FTSE/JSE Africa Gold Mining Index declined 4.5 percent.
Venkatakrishnan said he wouldn't be naming which assets could be sold because "these are operating mines and also there are various stakeholders involved."
AngloGold is also seeking partners for its Obuasi mine in Ghana and Colombian exploration assets.
Gauging Interest
AngloGold is gauging interest from other bullion producers and "non-conventional players" that want exposure to bullion, "particularly given the uncertainty that still exists on how reliable the U.S. recovery is," Venkatakrishnan said.
A total of 50 deals totaling more than $2 billion were reported in 2014 by private interests in the mining sector, according to analysis released this month by law firm Berwin Leighton Paisner. Gold was the most popular for deal-makers with a total of 15 transactions completed.
AngloGold posted a headline loss, which excludes one-time items, of $71 million, or 17 cents a share, in the three months to Dec. 31, compared with a profit of $44 million, or 11 cents, in the preceding quarter, the company said in a statement on Monday.
AngloGold incurred $147 million of costs relating to job cuts and other restructuring at Obuasi in the fourth quarter, it said. The company joined other gold producers in paying for accounting losses at Rand Refinery, South Africa's biggest bullion-processing plant. AngloGold contributed $44 million.
Gold produced climbed 2 percent to 1.16 million ounces in the quarter, while all-in sustaining costs declined 2 percent to $1,017 an ounce.
AngloGold's net debt was $3.1 billion at the end of 2014, or 1.9 times earnings before interest, taxes, depreciation and amortization. That's up from $2.95 billion at the end of the third quarter and about the same as a year ago.
Before it's here, it's on the Bloomberg Terminal.
LEARN MORE