Abbott Poll Ratings Improve Even as Dissent Talk Lingers
Jason Scott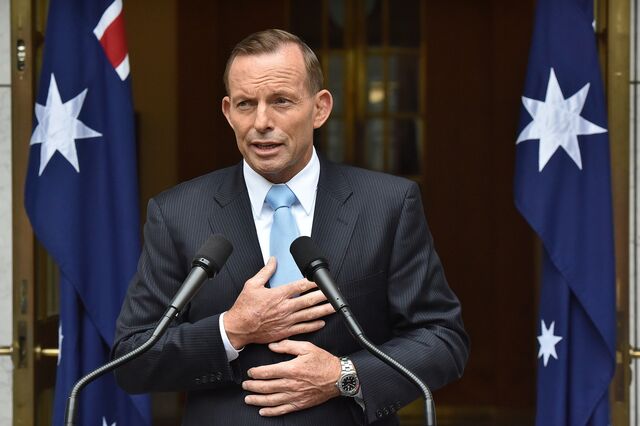 Poll ratings for Tony Abbott's government have risen in the wake of him fending off a leadership challenge, even as speculation of dissent among his lawmakers continues to dog Australia's prime minister.
Abbott's Liberal-National coalition narrowed the gap with the Labor party by 8 percentage points, according to a Newspoll published in the Australian newspaper on Tuesday. The government still trails the opposition, by 47 percent to 53 percent on a two-party preferred basis, meaning it would likely lose an election if it were held today.
The improved poll ratings are a boon for Abbott, 57, who is vowing to be more consultative and rethink some unpopular policies after almost 40 percent of Liberal Party lawmakers voted on Feb. 9 to support a motion that would have declared his job vacant. Pressure is mounting on Abbott to fire his chief of staff Peta Credlin, amid complaints from some party members that she is too controlling and that his office has become dysfunctional less than half-way through his first term.
A senior Liberal official warned in a letter to Abbott and members of the party's federal executive that Credlin's influence was "highly damaging," the Australian reported Tuesday. The Liberal's honorary treasurer, Philip Higginson, also wrote that Credlin's marriage to the party's federal director, Brian Loughnane, presented a conflict of interest.
"I am overwhelmed daily by the sheer vitriol, and pent-up animosities, and enmities that exist, and we are all personally affected by it," Higginson reportedly wrote.
Credlin's Control
Credlin has worked as an adviser for the Liberals for more than a decade, including stints with Abbott's predecessors in the party leadership, Brendan Nelson and Malcolm Turnbull.
Since the coalition won office, she's restricted backbencher access to the prime minister and vetted staff appointments by his ministers, according to reports in the local media.
Abbott defended his chief of staff on Tuesday, saying her marriage to Loughnane didn't present a problem. "I stand by my staff," he told Channel Nine television.
Since fending off the leadership challenge, Abbott has faced renewed questions about his political judgment that extends beyond his backing of Credlin.
Holocaust Apology
On Feb. 12, he apologized to parliament after saying that there was a "Holocaust of jobs" lost in defense industries under the previous Labor government. A day later, he removed Philip Ruddock as chief government whip -- a senior parliamentary post charged with ensuring lawmakers attend and vote on legislation. Some Liberal lawmakers criticized Abbott for firing the respected figure, saying it was a reprisal for Ruddock's failure to convey to the prime minister the level of unrest in the party.
Abbott also prompted a backlash from Indonesia as he stepped up the plea for clemency for two Australians on death row for drug offenses. His insistence that Indonesia should remember Australia's aid to the nation in the wake of the 2004 Indian Ocean tsunami was interpreted by the Foreign Ministry in Jakarta on Feb. 18 as "threats."
The government is under pressure to deliver a May 12 budget palatable to voters after last year's was seen as unfairly targeting lower-income earners. Abbott's bid to narrow a deficit forecast to be A$40.4 billion ($31.5 billion) this financial year has been hit by falling revenue.
Even amid his travails, Abbott narrowed the gap with Labor leader Bill Shorten on the question of who would make the better prime minister, according to the poll conducted Feb. 20-22. Abbott now ranks at 35 percent compared to 30 percent in the previous survey taken Feb. 6-8. Shorten slipped 5 points to 43 percent.
The poll of 1,180 voters has a margin of error of plus or minus 3 percentage points.
Before it's here, it's on the Bloomberg Terminal.
LEARN MORE