Kayla Mueller's Parents Say U.S. Ransom Policy Came First
"Any parents out there would understand that you would want anything and everything done to bring your child home," her father says.
By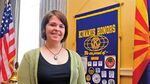 The parents of Kayla Mueller, a slain American hostage of the Islamic State, say they understood U.S. policy about not paying ransom but that the government put it before their daughter's life.