John Kasich Swats at Rand Paul, Hillary Clinton as He Considers 2016
The Ohio governor says all his "options are on the table" when it comes to running for president.
By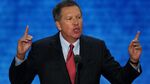 Ohio Governor John Kasich is offering a preview of how he would tangle with potential rivals Rand Paul and Hillary Clinton if he runs for president.
In an interview airing Sunday on CNN's State of the Union, Kasich defended his decision take Medicaid expansion money under Obamacare, which fellow Republican Paul has called a move by governors who think money grows on trees.
"You know, Matthew 25 says that it's about how you treat the widowed, how you treat the poor, how you treat the hungry," Kasich said. "How do you clothe those who have no clothes? That is a conservative position to help them get on their feet so they then can assume their rightful place in our society."
In Kentucky, he added, "maybe everybody's fine, maybe there aren't people who are suffering these problems." The state had the seventh-highest poverty rate in the U.S. (including the District of Columbia) in a 2011-2013 average, according to the U.S. Census Bureau.
Asked about Clinton, Kasich said, "You know, I like Hillary, but I'm not ever going to be for her for president."
He suggested that he'd continue to speak out on foreign policy, in which Clinton was involved as President Barack Obama's secretary of state from 2009 to 2013. "Hopefully whether I do this or not, I can have somewhat of a voice when it comes to the fact that America, you know, it just seems to be in retreat," he said.
Whether Kasich will meet Paul in the presidential primary is unclear.
"All my options are on the table, and it's a process that I, you know, have really not spent an enormous amount of time studying internally," said Kasich, who has been traveling to campaign for a balanced-budget amendment to the U.S. constitution. "But look, I'm not saying I won't, I'm not saying I will, I'm leaving my options out there and we'll just see how things develop."