Graham: Defunding DHS Would 'Add Gasoline to the Fire'
The South Carolina Republican says he would not be a part of risking DHS funding any longer.
By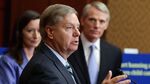 Senator Lindsey Graham is slamming Republicans who would defund the Department of Homeland Security in an effort to repeal President Barack Obama's executive actions on immigration.
"I've never seen more terrorist organizations with more safe havens, with more money, with more capability to strike the homeland than I do today," Graham said in an interview airing Sunday on ABC's This Week, according to a transcript. "The worst thing to do is add gasoline to the fire by having the Republican Party defund the Department of Homeland Security."
The South Carolina Republican, who is exploring a run for president and highlighting his credentials as a national-security hawk, advocated for passing a so-called clean DHS funding bill and letting the fight over the immigration "play out in court," where the administration's actions were recently stayed.
Earlier in February, Graham had sung a different tune, telling Politico that Senate Democrats who had blocked a House-passed DHS funding bill that repealed Obama's actions would "lose." He backed off that position a bit, telling the Washington Post two days later that he would "urge the House to do something new."
Funding for the department is set to run out Feb. 27.