Yemeni President Flees Capital After Three Weeks of House Arrest
Mohammed Hatem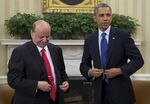 Yemen's President Abdurabuh Mansur Hadi fled the capital, Sana'a, after three weeks of house arrest by Shiite Houthi rebels, a spokesman said.
Hadi, 69, traveled to the port city of Aden, Majed al-Saqqaf said by phone Saturday. Al-Arabiya TV, the Saudi-owned broadcaster, reported that Hadi fled as his official residence was being looted and traveled via the southwestern city of Taiz. Ali al-Kahoum, a member of the Houthis' political department, told Khabar news agency that Hadi had escaped.
Hadi, who was backed by the U.S., quit on Jan. 22 after the rebels seized his palace, deepening turmoil in Yemen that has allowed al-Qaeda to expand its operations there and caused alarm in neighboring Saudi Arabia, the world's biggest oil exporter. He is suffering from a heart ailment and needs to leave Yemen for treatment, Information Minister Nadia Sakkaf said on Feb. 16. Yemen's parliament has yet to decide whether or not to accept Hadi's resignation.
The United Nations Security Council on Sunday unanimously adopted a resolution demanding that Houthi rebels relinquish their arms and control of the government they seized from Hadi and engage in talks on a peaceful political transition brokered by UN Secretary-General Ban Ki-moon's special adviser on Yemen, Jamal Benomar.
The Security Council adopted its resolution days after Benomar warned that a power vacuum may trigger a sectarian proxy war in Yemen. Such a conflict would pit Saudi Arabia backing Sunni forces against Iran supporting the Houthis, who follow the Zaydi branch of Shia Islam.
Before it's here, it's on the Bloomberg Terminal.
LEARN MORE