U.S. Labor Secretary Perez's Hands-On Style Clinched Port Deal
Esmé E. Deprez, James Nash and Alison Vekshin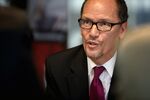 Thomas Perez, the Obama administration cabinet official who brokered a settlement in long-stalled talks between workers and management at U.S. West Coast ports, has a history of forging compromise.
"He's very hands-on, not unwilling to mix things up," said Seattle Mayor Ed Murray, who watched Perez, as an assistant U.S. attorney general, help craft a 2012 consent decree over police use of force in his city. "He's not afraid to push people to a resolution."
Perez, 53, now U.S. Secretary of Labor, did just that amid a nine-month standoff between the dockworkers' union and shipping lines and terminal operators at 29 West Coast ports, including Seattle's. The talks aimed at a five-year contract ended with a deal Friday evening, bringing an end to an impasse that threatened to close seaports responsible for more than 40 percent of U.S. trade that could have cost the U.S. economy $2 billion a day.
"This is now in the rear-view mirror," Perez told reporters outside the San Francisco headquarters of the Pacific Maritime Association, representing port management. The tentative settlement still needs approval from unionized dockworkers from San Diego to Bellingham, Washington. The ports should resume normal activities by Saturday night, Perez said.
Perez had arrived in San Francisco on Feb. 17, dispatched by President Barack Obama after a federal mediator failed to bridge the gap between the two sides. Talks had broken down over a union demand that it be able to fire arbitrators in workplace grievance proceedings.
Contract Proposal
On Thursday, Perez had made a contract proposal to representatives of the International Longshore and Warehouse Union and the Pacific Maritime Association and gave the sides until the end of Friday to make a deal. If they didn't, Perez said he would move the talks to Washington.
"I told the parties that I am neutral on the issue of how they resolve the arbitration impasse, but the president is not neutral on the question of how quickly they needed to resolve that impasse," Perez said after the settlement was announced. "It needed to happen very quickly."
Perez made the difference in the final days of the negotiations, said Robert Garcia, mayor of Long Beach, California, home to the second-largest U.S. port.
"Things had hit a lull before he came in," Garcia said. "He was very aggressive. He was very clear to all of us that he was going to get this done this week."
Perez attended the negotations between the union and management every day since Feb. 17. He mixed a genial style, jokes and sports metaphors with a sense of urgency, participants said.
25 Years
The swearing-in of Perez as the 26th Labor Secretary in July 2013 came after more than 25 years of work in government and the federal court system.
His past jobs ranged from federal prosecutor of hate crimes to secretary of Maryland's Department of Labor, Licensing and Regulation, to Assistant Attorney General for Civil Rights at the U.S. Justice Department, where he helped oversee a civil rights probe into the 2012 slaying of Trayvon Martin, 17, in Sanford, Florida.
In 2012, he brokered a federal consent decree over the Seattle Police Department's use of force procedures and concerns over biased policing.
'True Progress'
"Over my career, I've learned that true progress is possible if you keep an open mind, listen to all sides and focus on results," Perez said in a speech after Obama nominated him to replace Hilda Solis.
In 2002, he became the first Latino elected to the Montgomery County Council in Maryland, a position he held for four years, including one as council president. Nancy Floreen, who served with him during that time, said he demonstrated a straightforward negotiating style that emphasized respect and an understanding of each side's point of view.
"There's no pretense about Tom and I think as a result of that he immediately earns everyone's respect," said Floreen, now serving her fourth term. He has "an unusually astute ability to really, really listen and interact with people. He's not about ego. He's not about titles. He's about policy."
Immigrants' Son
A native of Buffalo, New York, Perez is the son of immigrants from the Dominican Republic who put himself through college at Brown University in part by working as a trash collector. He went on to receive a master's degree in public policy from Harvard University's John F. Kennedy School of Government and a law degree from Harvard Law School.
"His story reminds us of this country's promise, that if you're willing to work hard it doesn't matter who you are, where you come from, what your last name is, you can make it if you try," Obama said of Perez in his nomination speech. "Tom's made protecting that promise -- for everybody -- the cause of his life."
Much of Perez's career has focused on civil rights, with posts including leading a Worker Exploitation Task Force as deputy assistant attorney general for civil rights under then-Attorney General Janet Reno and as special counsel to the late U.S. Senator Edward Kennedy of Massachusetts. He has also taught law and is an avid runner.
Minimum Wage
At Labor, Perez has championed boosting the mininum wage, instituting paid parental leave and a focus on the long-term unemployed. He's overseen a period during which payrolls have increased by about 5 million, exceeding their pre-recession peaks both for total and private-sector employees. The unemployment rate has plunged to 5.7 percent from 7.3 percent.
Prior to Perez's confirmation, then-Minority Leader Mitch McConnell, a Republican, took to the Senate floor and called Perez a "committed ideologue."
"His willingness, time and again, to bend or ignore the law and to misstate the facts in order to advance his far-left ideology led me and others to conclude that he'd continue to do so if he were confirmed to another, and much more consequential, position of public trust," McConnell said. No Republican voted for him.
Three Children
Perez, who's balding and sports a stubbly goatee and black-framed, squarish glasses, lives in Takoma Park, Maryland, just outside of Washington. His wife is an attorney for the Washington Legal Clinic for the Homeless. They have three children.
In San Francisco, Perez had been monitoring the negotiations taking place on the third floor of a high-rise office building in the city's financial district. Neither longshore union spokesman Craig Merrilees nor maritime association spokesman Wade Gates would comment on Perez's role in the negotiations.
Over the past week, Perez had held regular briefings with the mayors of cities with major west coast ports. Oakland Mayor Libby Schaaf said his initial day was spent "fact-finding, assessing the temperature, engaging in shuttle diplomacy." He traveled to Oakland Feb. 18 for a meeting in her office, and caught a first-hand glimpse of the languishing port there from atop the San Francisco-Oakland Bay Bridge, with its anchored ships and stilled cranes.
"We know from experience that often when shippers go to another port -- even once the conflict is resolved -- they do not come back," Schaaf said. "The Port of Oakland supports 73,000 jobs just in this region. It's not just important to the national economy, it is very important to our local economy."
Minutes after the deal was announced, Perez told reporters outside the meeting that the stakes in the talks were very high.
"The impact on the economy was such that the president asked me to come here, and we needed to raise the temperature in addition to the work of the mediator," Perez said. "My presence was designed to send a very clear signal that there was incredible collateral damage."
Before it's here, it's on the Bloomberg Terminal.
LEARN MORE