Singapore's Lee Kuan Yew Hospitalized for Pneumonia
Linus Chua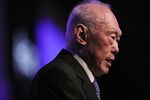 Lee Kuan Yew, Singapore's first elected prime minister, was hospitalized on Feb. 5 for severe pneumonia and remains on mechanical ventilation, according to a statement from the Prime Minister's Office.
Lee, 91, is conscious and lightly sedated in the intensive care unit of the Singapore General Hospital, and his condition has stabilized, according to the statement.
"His doctors are continuing to monitor his condition," the Prime Minister's Office said. It "will keep the public informed of any significant change."
Lee, the Cambridge University-trained lawyer who led the nation from 1959 to 1990, crafted a legacy of encouraging foreign investment, averting corruption and emphasizing discipline, efficiency and interracial harmony. His elder son, Lee Hsien Loong, has been prime minister since 2004.
The current premier had surgery on Monday to treat prostate cancer. He returned home on Wednesday and is expected to recover fully, according to the Prime Minister's Office.
The younger Lee, 63, visited his father this morning, delaying the traditional Lunar New Year greeting until the third day of the holiday at the advice of doctors treating the two men, he said in a Twitter and Facebook post.
"This was the first year in a long while that we could not attend the Lee family reunion dinner," he said in the post.
Before it's here, it's on the Bloomberg Terminal.
LEARN MORE