Bomb Kills Two in Eastern Ukraine
Aliaksandr Kudrytski, Daryna Krasnolutska and Kateryna Choursina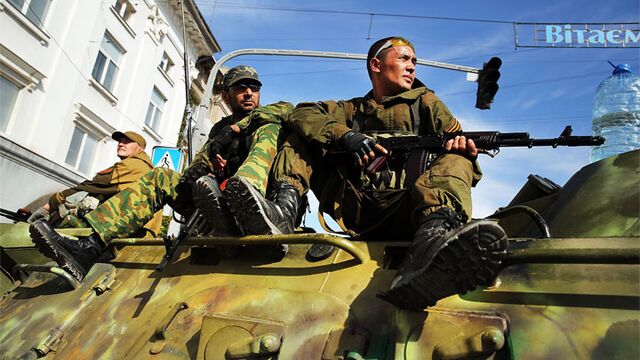 Pro-Russia rebels attacked Ukrainian positions with artillery, mortars and automatic weapons, the Defense Ministry in Kiev said, as a bomb killed two people at a pro-Ukraine rally in the eastern city of Kharkiv.
The Ukrainian government said it arrested four people trained in Russia in connection with the blast. Hours earlier, the government and separatists said they agreed to withdraw heavy military equipment, starting Sunday.
The government and the rebels said they had completed the first prisoner swap since high-level talks in Minsk produced a truce that took effect Feb. 15 and is already being breached. U.S. Secretary of State John Kerry warned Saturday in London more sanctions may be imposed against Russia if violations of the truce continue.
"Russia continues to arm militants in Donbas in defiance of the Minsk agreements," Ukrainian military spokesman Andriy Lysenko told reporters in Kiev on Sunday. "If the separatists did not receive military equipment, munitions, instructors, fighters from Russia, we would have long since reinstalled the integrity of our country."
Rebels attacked Ukrainian positions 14 times with artillery and mortars and five times with automatic weapons and grenade launchers on Sunday, Defense Ministry spokesman Anatoliy Stelmakh said in a video statement posted on YouTube. The situation was most difficult near Shyrokyne east of Mariupol, and in Pisky near Donetsk. More than 14 drones were observed near Mariupol during the past 24 hours.
Red Cross
The International Committee of the Red Cross said in a statement it delivered food, medical supplies and other essential items over the weekend to the roughly 5,000 people trapped in the town of Debaltseve by heavy fighting over the past week.
Ukraine accused Moscow of sending more troops into the east of the country, contravening the Europe-brokered truce that was agreed upon in Minsk on Feb. 12. U.S. officials said at the time they wouldn't rule out imposing tougher sanctions on Russia or giving more security assistance to Ukraine if the Minsk deal wasn't fully implemented.
The United Nations says the Ukraine conflict has claimed more than 5,600 lives.
Oleksandr Turchynov, the head of Ukraine's national security council, said on his agency's website that two people died in the Kharkiv attack, providing an update on the number of victims initially listed as three.
The city's Deputy Mayor Svitlana Horbunova-Ruban told 112 TV in a live broadcast that "11 people are hospitalized, 2 are in critical condition."
Bomb Planted
The bomb was planted near the route of Sunday's rally, the regional prosecutor's office said on its website, contradicting earlier witness accounts that it had been thrown from a passing car. City officials said Monday will be a day of mourning in Kharkiv.
Ukrainian security services prevented another terrorist attack in the city of Odessa, President Petro Poroshenko said in a posting on his website.
The Kharkiv rally was one of many being held nationwide to commemorate those killed during street protests last year that toppled Kremlin-backed President Viktor Yanukovych.
Poroshenko said on his Facebook page that the blast "is a brazen attempt to expand the realm of terrorism."
Poroshenko met with Polish President Bronislaw Komorowski in Kiev, his press service said on the website. Komorowski was one of the European dignitaries to march on Kiev streets in commemoration of protesters killed last year during the pro-democratic uprising.
For Related News and Information: Timeline: How Ukraine's Crisis Lurched From Mass Protests to War
Before it's here, it's on the Bloomberg Terminal.
LEARN MORE