Quick Winter Storm to Bring Snow, Ice to Washington, New York
Brian K. Sullivan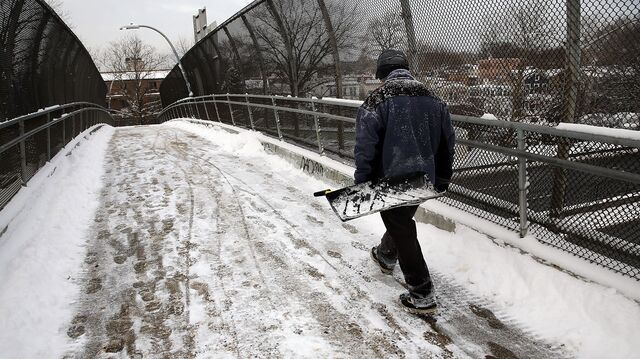 A fast-moving winter storm will come out of the Ohio Valley bringing snow and sleet across the U.S. Mid-Atlantic and Northeast regions, including Washington and New York.
Snow will start falling early Saturday afternoon in Washington and spread to New York later, according to the National Weather Service. Both cities may get as much as 4 inches (10 centimeters) from the storm.
"It's not a huge storm but a quick hitter," said Bob Oravec, a U.S. Weather Prediction Center meteorologist in College Park, Maryland. "The heavier amounts will be west of the I-95 corridor; if there is a surprise with this storm it is that we might get heavier snows in some of the bigger cities."
Winter-storm warnings and advisories stretched from Missouri to Maine as the storm made its way east. There were 532 flights canceled around the U.S. as of 9:07 a.m. New York time, according to FlightAware, a Houston-based airline tracking service.
The most were reported out of Washington's Reagan National Airport, followed by Newark's Liberty International Airport, the company said.
Boston, which has had its second snowiest season on record, may get another 4 inches through Sunday, the weather service said. The city has gotten 98.7 inches so far this season, which is almost 9 inches less than the 107.6-inch record set in 1995-1996.
Closed Schools
In just about four weeks Boston had got 93.2 inches of snow, the weather service said. The storms have shut schools, clogged roads and caused numerous delays and cancellations on the Massachusetts Bay Transportation Authority's subway, bus and commuter rail lines.
Oravec said while the storm may bring some sleet along with the snow, earlier forecasts that called for rain almost certainly won't come to pass. This was particularly important in Boston, where snow-covered roofs were expected to absorb the water and become much heavier, creating a danger of collapse.
After the storm moves out, temperatures are set to plummet through the region. New York and Philadelphia may reach a low of 6 degrees Fahrenheit (minus 14 Celsius) Monday night, while Washington hits 9 and Boston gets to minus 1.
Before it's here, it's on the Bloomberg Terminal.
LEARN MORE