Yellen Confronts Economists' Ignorance
Rich Miller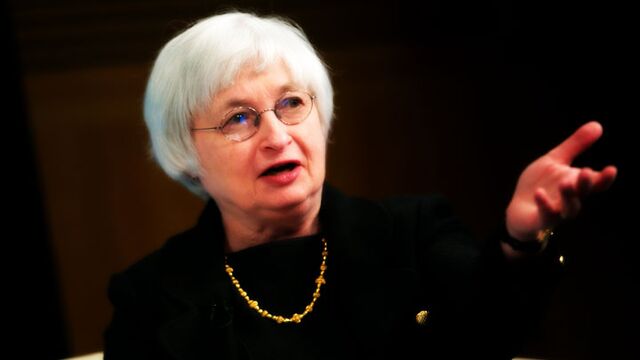 Productivity is probably the most important measure of economic health that policy makers know the least about.
Its pace will help determine how soon Federal Reserve Chair Janet Yellen and her colleagues increase interest rates and how far rates ultimately will rise.
A quicker advance would argue for a later lift-off because the economy would have more room to run before bumping up against capacity constraints. It also eventually would require a higher ending point to prevent the more-vibrant expansion from overheating. Slower productivity would call for the opposite strategy.
The trouble, according to former Fed Vice Chairman Alan Blinder, is that economists -- including those at the Fed -- don't have a good idea of how fast productivity will grow in the next few years.
The long-run trend is "hugely important," but "it can take years" to recognize any changes, he said in an interview.
Yellen will lay out the central bank's views of the economy and policy when she testifies before Congress next week. At their Jan. 27-28 meeting, officials discussed the timing and pace of potential rate increases. Many were inclined to keep the benchmark federal fund rate near zero "for a longer time," according to minutes of the gathering released Feb. 18.
Growth-Rate Trend
John Fernald, a senior research adviser at the Federal Reserve Bank of San Francisco, pegs the trend growth rate of productivity at 1.8 percent a year for U.S. businesses and 2.1 percent for the economy as a whole.
Such projections are consistent with the Fed raising rates this year for the first time since 2006, said Dale Jorgenson, a professor at Harvard University in Cambridge, Massachusetts, and former chairman of its economics department.
The margin of error around Fernald's forecast is wide, though, as he is the first to acknowledge.
"There's basically an 80 percent chance over the next 10 years that productivity growth will average between 1 and 3 percent," the Fed official said.
Productivity measures the overall efficiency of the economy and matters beyond the central bank. It governs how fast the economy can expand, how much companies can earn and pay their workers, and how much the government can increase its budget. That is why economists put in a lot of time trying to parse it out.
'Fundamental Determinant'
"It is the fundamental determinant of people's standard of living, yet we know so little about what drives it," said Barry Bosworth, a senior fellow at the Brookings Institution in Washington and a former adviser to President Jimmy Carter.
Its recent performance hasn't been encouraging. Output per hour worked in American businesses has risen by an annual 0.6 percent in the last four years, compared with a 2.2 percent average in the last 25. Measured this way, productivity dropped at a 2 percent annual pace in the fourth quarter of 2014.
Economists say the Labor Department probably will revise the data even lower next month to reflect stronger hiring than government statisticians first reported.
Productivity depends on the skill of the labor force and the capital companies give them to work with -- from assembly lines to smartphones. It also is driven by innovation and other forces economists can't readily distinguish, such as changes in work practices. These murky influences, known as total factor productivity, are symptomatic of the profession's "ignorance," according to the late economist Moses Abramovitz.
Poorly Understood
His observation endures today, including in a Dec. 22 report by senior economist J. Christina Wang and research assistant Alison Pearson at the Boston Fed, who wrote that these influences "are still poorly understood."
Technology is an important element in all of this, yet its development isn't easy for economists to predict, and its impact can diminish over time.
Banks, retailers and other companies made use of information technology from 1995 to 2004 to boost worker efficiency. The result: Output per hour for the business sector advanced at a 3 percent annual pace during the decade.
Much of the current debate in the economics profession centers on whether the U.S. can recapture that vibrancy. Erik Brynjolfsson, a professor at the Massachusetts Institute of Technology in Cambridge, is optimistic, arguing the economy is experiencing a "fundamental transformation" driven by technological innovation.
Revolution's End
Robert Gordon, a professor at Northwestern University in Evanston, Illinois, is more downbeat.
"The fruits of the third industrial revolution" -- information technology -- "may be coming to an end," said Gordon, a member of the economic panel that dates the start and finish of U.S. recessions. He sees productivity expanding at the lower end of the 1 percent to 3 percent band Fernald cited.
Former Treasury Secretary Lawrence Summers said it's hard to square the "enormous anecdotal evidence" of technological advance Brynjolfsson cites with recent "dismal" productivity statistics.
"That is a major puzzle," Summers, now a Harvard University professor, told a Feb. 19 conference in Washington sponsored by the Brookings Institution.
Productivity data have been even worse than the pessimists posited. That's led economists such as Mark Zandi of Moody's Analytics Inc. to speculate it's been held down partly by temporary forces that will dissipate as the economic expansion continues.
Possible Culprits
Among the possible culprits: a surfeit of low-cost labor that's encouraged companies to hire more workers rather than spend money improving the efficiency of existing staff through training or more up-to-date equipment.
With unemployment near a six-year low, that strategy is starting to look less attractive. Zandi, the chief economist at New York-based Moody's, sees the dynamic working first-hand. Finding it increasingly difficult to hire the skilled workers it needs, Moody's is putting more effort into perfecting its computer models.
"We're spending more time on trying to improve the productivity of our current workforce," he said.
The Boston Fed's Wang said productivity could pick up during the next few years as companies become more confident in the outlook and invest more in their businesses. Still, total factor productivity, which includes innovation, seems to have moved "back into the slow lane" after its 1995-2004 surge, she said. She pegs the economy's long-run speed limit at 1.7 percent to 1.9 percent, below Fernald's 2.1 percent.
Long-Run Estimate
Most policy makers on the central bank's Federal Open Market Committee agree with Fernald and estimate the long-run annual growth rate of gross domestic product at 2 percent to 2.3 percent, according to projections released on Dec. 17.
History shows how important it is that the central bank get the productivity outlook right. A sudden slowdown in the 1970s blindsided the Fed and led to a double-digit increase in inflation because officials kept monetary policy too loose as oil prices surged. In the late 1990s, then Chairman Alan Greenspan correctly saw that output per hour was accelerating and held back from raising interest rates, allowing unemployment eventually to fall below 4 percent.
Blinder, now a professor at Princeton University in New Jersey, said he'd have more economists at the central bank working on the issue if he were still there, adding this would be a "productive" use of their time.
Before it's here, it's on the Bloomberg Terminal.
LEARN MORE