Sex-Bias Trial Next Week Adds to Woes Plaguing Kleiner Perkins
Eric Newcomer and Serena Saitto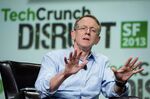 To mark the 40th anniversary of Kleiner Perkins Caufield & Byers, co-founder Tom Perkins extolled the venture-capital firm in a 2011 partner letter for having set the industry's ethical standard.
The following year, the firm -- created in 1972 by Perkins and Eugene Kleiner, and which went on to back companies including Google Inc. and Amazon.com Inc. -- was sued by former partner Ellen Pao, whose allegations call those ethics into question. She accused the firm of gender bias, in a case that is scheduled to begin jury selection on Monday. The ensuing trial is set to add to woes facing Kleiner, including questions by investors and others over its recent investment record.
"Everybody is going to be watching," said Candida Brush, an entrepreneurship professor at Babson College. "Since Kleiner Perkins is one of the top venture capital firms, they're very visible."
In recent years, Menlo Park, California-based Kleiner has had to deal with the fallout of costly bets on clean technology companies and the perception that it's missed out on some of the most desirable early-stage Internet startups. Last year, it endured a public breakup with Perkins over comments he made linking the travails of the wealthy to Nazi persecution of Jews -- a far cry from the "immense pride" Perkins said he felt for the firm in his March 2011 letter.
The firm is grappling with competition from venture firms including Benchmark, Andreessen Horowitz and Greylock Partners. (Bloomberg LP, parent of Bloomberg News, is an investor in Andreessen Horowitz.) Earlier this year, Kleiner sought to rejuvenate its ranks by attempting to absorb young venture firm Social + Capital Partnership, though the discussions ended without a deal.
Doerr's Comments
Kleiner has said in legal filings that Pao's case is meritless. Pao, now interim chief executive officer at Reddit Inc., is seeking as much as $16 million for back pay and future wage losses. She declined to comment on the case.
Perkins declined to comment on the case, though he wrote in an e-mail that he would attend some of the trial to "show the flag."
Kleiner partner John Doerr, who invested in Google, said in an interview that the firm stumbled with investing in clean technology. Still, he said Kleiner has done well for its investors and startups.
"We're delivering returns to them," he said, declining to comment on the Pao case. "Last year, we sent them $1.4 billion of returns. That's by any measure really good."
Kleiner remains among the best-known Silicon Valley venture names. It has continued raising money, with a $450 million early-stage fund and a $750 million late-stage fund in 2014. Under Doerr and partner Ted Schlein, the firm has also made high-profile hires, recruiting Internet analyst Mary Meeker from Morgan Stanley in 2010 and former Twitter Inc. vice president of engineering Mike Abbott in 2011.
Kleiner Exits
The firm has also successfully sold or taken startups public to generate returns. According to researcher CB Insights, Kleiner is one of just six venture firms that has had eight or more companies go public or sell for more than $1 billion between 2005 and the end of 2014. Those include smart thermostat maker Nest Labs Inc., which Google purchased for $3.2 billion last year.
In total, 14 of Kleiner's investments went public in the past two years, with another 18 acquired by companies, Doerr said.
Young Companies
Even so, Kleiner faces skepticism about how plugged in it is with younger Internet startups. When Abbott agreed to join Kleiner, he said he asked during meetings whether there was an acknowledgment that things needed to change at the firm to improve outreach to younger companies.
"There were a lot of companies that [Kleiner] missed," Abbott said. "I'm not interested in our firm being good, I want to be great."
Abbott said Kleiner has taken steps toward more startup deals, including shrinking the pool of partners working on early-stage investments from 11 to 5 in 2013. The move gave the firm more room to hire new partners, he said.
Kleiner's attempts to bring in Social + Capital underscore how the firm is seeking new talent. Doerr recently spent four weeks negotiating with Social + Capital partner Chamath Palihapitiya and his team to acquire the firm, said people with knowledge of the situation, who asked not to be identified because the conversations were private. Social + Capital had invested earlier in two startups that Kleiner later put money into: education startup Remind Inc. and workplace messaging tool Slack Technologies Inc.
The talks ended when Social + Capital partners pressed to have equal power with Doerr and his partners over the firm's hiring and firing, the people said.
Hiring Conversations
"We're huge fans of John Doerr. We're huge fans of Mary Meeker and we believe the Kleiner brand is a really important part of the venture ecosystem," Palihapitiya said in an interview. He declined to comment on the Kleiner talks.
Doerr said the talks with Social + Capital were overblown.
"We're having lots of conversations with lots of people," he said. "That's our job."
Mike Lee, CEO of mobile-fitness application MyFitnessPal Inc., which is backed by Kleiner, said the firm remains a key helper to entrepreneurs. Earlier this month, he sold MyFitnessPal to Under Armour Inc. for $475 million after Under Armour reached out through Doerr's chief of staff, Lee said.
"They were incredibly supportive all along the way," Lee said of Kleiner.