SEC Considering Less-Regulated Stock Markets for Small Companies
Dave Michaels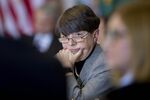 The U.S. Securities and Exchange Commission is reviewing whether to allow stock exchanges to start less-regulated markets that will make it easier for small companies to raise money, the agency's chairman said.
Such "venture exchanges" could boost investors' interest in stocks with low market values, which trade less frequently than other equities and attract less interest from brokers who make markets, SEC Chair Mary Jo White said Friday.
"Clearly what we are looking at is how do we improve or deepen the liquidity of the securities of small companies?" White told reporters after a speech in Washington. "It's too early to tell what exactly we'll do, but we're very seriously taking a deep look at that."
Venture exchanges could offer incentives for small companies to go public, such as lighter disclosure requirements, SEC Commissioner Daniel Gallagher said in November 2013. Regulators may have to exempt venture exchanges from some of the agency's rules, including a mandate that trades occur at the best price available on any public market, Gallagher said.
White said it's too early to say how the SEC will move forward. She said the SEC has approved venture exchanges in the past.