Obama Says Economy's Success Has Republicans Following His Lead
Lauren Langille and Toluse Olorunnipa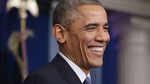 President Barack Obama accused Republicans of trying to co-opt his focus on middle-income Americans after working to undermine his policies and he urged Democratic Party leaders carry his economic message into the 2016 elections.
In delivering a pep talk to the Democratic National Committee's winter meeting in Washington, Obama said that the economic growth and falling deficits during his presidency have Republicans shifting gears after saying for years that his policies would kill jobs and ruin the economy.
"The new plan is to rebrand themselves as the party of the middle class," Obama told the Democrats. "You can't just talk the talk. You've got to walk the walk."
The three-day event included speeches, caucus sessions, and general meetings to assess Democrats' campaign strategy and discuss plans for the 2016 elections for president and Congress. After losing their Senate majority and seeing their numbers shrink in the House after the 2012 vote, the party is focusing on holding the White House after Obama's term ends.
Obama stuck to familiar themes, saying Democrats' policies that make paychecks go further, create jobs and prepare workers for higher wages are starting to work. He challenged Republicans to show that they're focused on middle-income Americans and address some of the difficulties still ahead.
"Stop trying to strip health insurance from millions of Americans and preventative contraceptive care for millions of women," he said, referring to Republicans. "Stop trying to deport millions of striving young kids who just want to earn their shot at the American dream like the rest of us."
Republican Approach
In a statement released Thursday, House Republicans said Obama's economic approach was hurting American families. "Growth comes from the ground up, not from overbearing, top-down approaches," they said in their statement.
As Obama has made closing the income gap between the wealthiest Americans and the rest of the country a theme for his last two years of his term, some of the Republicans considering a run for president in 2016 have taken up the issue as well.
At an event with donors last month in California, Kentucky Senator Rand Paul, Florida Senator Marco Rubio and Texas Senator Ted Cruz all made the argument that the American economy hasn't fully recovered because income inequality has grown under Obama.
Obama didn't directly make reference to any Republicans except Senate Majority Leader Mitch McConnell, who he said tried to block his agenda at every turn, and Paul, who he called "an interesting guy."