Food
Heston Blumenthal's Biggest Headache in Australia: Finding Snails for Porridge
Britain's brainest chef discusses his Fat Duck migration to Melbourne
By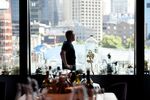 Heston Blumenthal tells a story of walking through Sydney and being stopped several times by fans wanting their photograph taken with him.
Finally, a family approached with the request for a picture. He passed the camera to his publicist and posed with them, only realizing from their surprised reaction they had no idea who he was and just wanted him to take their picture.
For all that, the British chef is a celebrity in Australia. He is best-known for his appearances on the hit TV show MasterChef Australia—including "Heston Week"—and his Heston for Coles food range.
Now, he is in the news for his restaurant the Fat Duck, which has opened for a six-month residency at the Crown Towers in Melbourne, and I reviewed last week. Given that's a straight import, nothing translated or invented, my first question is ... why Australia, and specifically why Melbourne? 
''Australia has had the biggest food explosion I've ever seen in the world," he says in an interview over lunch. "Look at what happened in Spain, say 15 years ago. That was a couple of handfuls of restaurants. But here they have just gone food crazy. Effectively, it was MasterChef that kicked that off five or six years ago. A lot of Australian chefs have done their time in some of the top restaurants in Europe and they are coming back, too. You see the benefits of that. 
"Melbourne is a great city. I get here, and I feel I can breathe." He says that for food, he considers Melbourne one of the world's top five or six cities. The others on the list are New York, London, Paris, and Tokyo/Kyoto.

Earnest Experimentation
Blumenthal's public image is of a boffin of food, developing dishes in his laboratory that owe as much to science as gastronomy. This isn't so far from the truth. Take a single example on his Fat Duck menu, the Red Cabbage Gazpacho with Pommery Grain Mustard Ice Cream.
He created the dish on the strength of the molecular similarities of diverse ingredients after discovering that mustard oil gives cabbage its peppery flavor, hence the mustard ice cream. Just don't go calling his style "molecular gastronomy," a term he finds irritating.
If Blumenthal sometimes appears rather earnest on television, that's how he is when you meet him. I've interviewed him about a dozen times over the years, and he is good company, as happy to chat about sport and his love of table tennis as about restaurants and developments in cooking.
This time, the interview starts out over coffee at the Crown Towers and after an hour or so we decide to head out for lunch at Cumulus Inc., a fashionable eating house and bar on Flinders Lane in an old rag-trade building in Melbourne's art and fashion district.
We take a corner table and order small plates of oysters; sardine and pickled chili en croute; gazpacho, spanner crab and almond; wagyu bresaola; grilled ox tongue and mustard fruits; tuna tartare with crushed-green-pea salad; and baby iceberg, grapefruit, and dill.
"This is the first time I've got out of the hotel in a week," Blumenthal says over a bottle of By Farr 2010 Australian Chardonnay from Geelong after going for a chat with the chefs in the open kitchen.
Mass Migration
The Fat Duck has come to Australia while the restaurant back home in Bray, west of London, is refurbished. It is a tiny establishment that has changed little since winning three Michelin stars and, in 2005, being voted the world's best restaurant. 
In particular, he's extending the kitchen, one of the smallest I've ever seen in an established restaurant.
Blumenthal says he considers cities such as New York and Dubai for the residency, but his first choice was Melbourne, where there is a fast-growing food culture and where he can readily source the top-quality ingredients needed for his cooking. The deep pockets of Crown Resorts Ltd. (CWN AU), which owns the hotel, may have had something to do it. Crown Resorts is a casino, entertainment, and hotel company controlled by the billionaire James Packer. There's been no announcement of what the move cost, but it can't have been cheap flying the entire 60-odd staff of the Fat Duck across the world for six months while also developing a network of suppliers for ingredients and wine.
''I think of this as a migration," Blumenthal says. "The Duck's gone away to get a bit—I was going to say fatter, but that sounds financial. It's going to a spa and will come back relaxed and invigorated."

He's looking relaxed and invigorated himself. Blumenthal is a martial-arts enthusiastic and former debt collector. He's friendly and engaging but you wouldn't want to mess with him. At one stage over lunch he says he used to get into fights when he was younger. "Physical ones?" I ask in surprise. "Yeah," he says, looking puzzled that I need to ask."
Blumenthal's announcement last year that he would temporarily move the Fat Duck to Australia was headline news. The only adverse reaction was to the price of a meal: Australians are no more used to paying A$525 ($408) per person for a meal than the rest of us. That didn't stop more than 250,000 people trying for a table. 
''It was a hard one,'' Blumenthal says. ''If we had to charge enough to claw back the cost of flying everyone over and setting up the restaurant, it would have been thousands, which we couldn't do. But it's still about 30-percent more than the next-most-expensive restaurant in Melbourne."
When the residency ends, the Fat Duck will go home to roost and the first overseas branch of Dinner by Heston Blumenthal will then move into the space.
''Australia is a young and very multicultural country," he says. "Also, its geographic disconnection from the rest of the world means people want to absorb stuff. Foodwise, they are really up for trying new things and that has helped the whole restaurant scene.
''I had a taxi driver telling me last year he'd invented an extra pocket in pita bread to put in fermented beetroot. Can you imagine a London cabbie doing that?''

Blumenthal is full of praise for Australian produce and has tweaked his dishes to accommodate the different types of fish available locally. There has been just one snag: Finding the right kind of snail for his signature dish of snail porridge. Finally, he decided he would have to import them.
''It's ironic the thing that was hardest to pin down was the slowest moving,'' he says, then breaks off as a diner approaches wanting a picture taken with him.
Richard Vines is the chief food critic for Bloomberg. Follow him on Twitter @richardvines. 
Before it's here, it's on the Bloomberg Terminal.
LEARN MORE