Drug-Resistant Malaria Near India Seen Posing Global Threat
Kanoko Matsuyama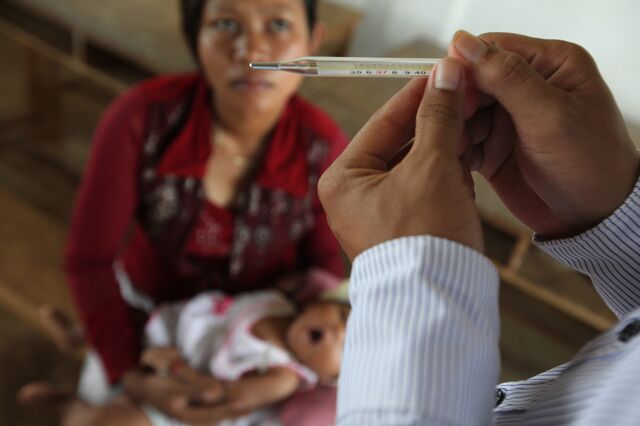 Malaria resistant to the best treatment available has been documented in Myanmar near the Indian border, researchers said, stoking concerns it could spread to one of the most populous nations and other parts of the globe.
The advance into India of the parasites that can't be stopped by the drug called artemisinin, the frontline treatment for the mosquito-borne disease, would pose a serious threat to the international control and eradication of malaria, according to the study coordinated by the Mahidol-Oxford Tropical Medicine Research Unit and published in the Lancet.
Resistance to artemisinin has been detected in five South-East Asian countries: Cambodia, Laos, Myanmar, Thailand and Vietnam, and is suspected in some parts of South America, according to the World Health Organization. If such malaria spreads from Asia to Africa, millions of lives will be at risk, the researchers said.
"Myanmar is considered the frontline in the battle against artemisinin resistance as it forms a gateway for resistance to spread to the rest of the world," said Charles Woodrow, senior author of the study. "The more we understand about the current situation in the border regions, the better prepared we are to adapt and implement strategies to overcome the spread of further drug resistance."
Artemisinin-based drugs such as Novartis AG's Coartem are the most powerful treatments against malaria after the parasite developed resistance to several previous generations of medicines. The emergence of resistance to the medicine is an urgent public health concern, threatening the sustainability of the global effort to reduce the burden, the WHO said.
About 198 million cases of malaria occurred in 2013 and an estimated 584,000 died from it, mostly among African children, according to the Geneva-based WHO. Resistance occurs as a result of factors including poor treatment practices and inadequate compliance to prescribed medicines, it said.
Malaria is caused by a parasite called plasmodium, which is transmitted via the bites of infected mosquitoes. Symptoms include fever, headache and vomiting, and usually appear 10 to 15 days after the bite. The disease can quickly become life-threatening by disrupting the blood supply to vital organs, according to the international agency.
Before it's here, it's on the Bloomberg Terminal.
LEARN MORE