Crowded-Out Bond Traders Gorge on Corporate Debt: Credit Markets
Cordell Eddings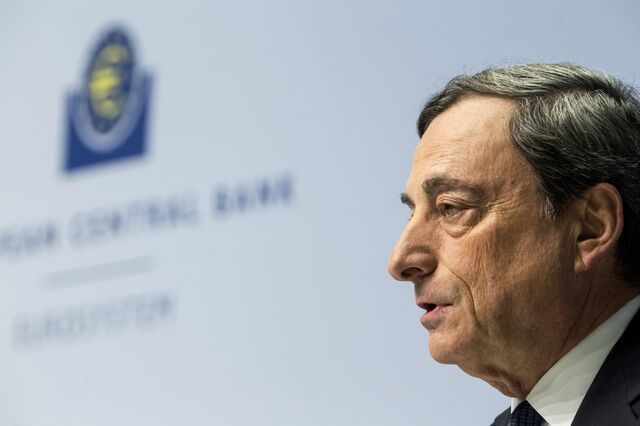 Major central banks are buying up so much government debt that investors have little choice other than to funnel ever more of their money into riskier corporate debt.
Led by the European Central Bank and the Bank of Japan, policy makers will swallow up all of the net $1.2 trillion in government securities expected to be issued this year, according to JPMorgan Chase & Co. That means money managers may allocate 20 percent more than benchmark indexes to purchase company securities in 2015 compared with 5 percent more five years ago, according to the world's biggest underwriter of the debt.
"Companies are in a prime position to finance their business over a long period of time," said Edward Marrinan, a macro credit strategist at RBS Securities in Stamford, Connecticut. "With yields so low, investors are willing to trust the Microsofts and Cokes of the world for the extra basis points."
Companies from top-rated Microsoft Corp. to speculative-grade PetSmart Inc. are benefiting from unprecedented monetary stimulus that's cut average yields by more than half since 2008 to a near record low of 2.56 percent. Borrowing costs have dwindled so much that investors are willing to accept next to nothing to own some bonds, like those of Nestle's SA, which look attractive compared with the more than $1.75 trillion of the developed world's sovereign debt that has negative yields.
Outstanding Debt
While the amount of all outstanding government and corporate debt has climbed 40 percent since 2007, according to the Bank for International Settlements, there's still not enough to keep up with demand. At a time when investors scarred by the worst economic crisis since the Great Depression were seeking out the safest assets, central banks in the U.S., U.K. and Japan have snapped up as much as a third of the $50 trillion in bonds traded globally during the last eight years, according to Nandini Srivastava, a London-based global-market strategist at JPMorgan. That's up from 19 percent in 2006.
Banks have been stockpiling highly rated securities, too, to satisfy regulations designed to limit risk taking.
"The pie is getting smaller," Srivastava said in a telephone interview. "By taking away the supply of government bonds, central banks have shrunk the universe of tradable bonds tremendously, and investors are unwillingly finding themselves increasingly holding more company debt. The demand-supply imbalance puts downward pressure on yields."
Record Sales
The trend is a boon for issuers. Sales of corporate bonds rose to an unprecedented $4.14 trillion in 2014 as borrowers loaded up on cheap debt, according to data compiled by Bloomberg.
Microsoft, the world's largest software maker, was one such beneficiary and increased a bond sale this month by 54 percent to $10.8 billion. PetSmart, a pet-store chain, sold $1.9 billion in junk-rated securities on Wednesday to finance its buyout by BC Partners at a coupon that was lower than initially marketed.
The frenzy doesn't necessarily mean it's a good time for investors to buy. Duration, which tracks the sensitivity of bond prices to interest-change changes, is the highest on record for global company debt, Bank of America Merrill Lynch index data show. This means that gains may turn into losses when interest rates climb.
'Unquantifiable' Risk
BlackRock Inc., the world's largest asset manager overseeing $4.4 trillion, is "underweight" corporate bonds because central-bank policies have divided asset prices from fundamentals.
"That uncertainty is impossible to measure, leaving portfolio risk unquantifiable," Jeffrey Rosenberg, the chief investment strategist for fixed income at wrote in a note to clients this week.
Demand is so strong that yields on some bonds trading in Europe for companies from General Electric Co. to McDonalds Corp. are verging on negative.
General Electric's 700 million euros ($798 million) of 5.125 percent notes due in September reached a record-low yield of 0.079 percent on Feb. 10, Bloomberg data show. They currently yield 0.092 percent. Notes issued by McDonald's, the world's largest restaurant chain, that are due in June 2016 yield 0.159 percent
"Yields, which at first may look illogical, speak to the extreme nature of global central bank policy making and how difficult it has been to spur growth and inflation," said RBS's Marrinan.
RBS sees U.S. investment-grade debt returning 1.5 percent in 2015, down from 7.5 percent gains last year.
"Investors need the yield," said Anthony Valeri, a market strategist with LPL Financial Corp. in San Diego, which oversees $350 billion. The ECB's bond purchases are "working, forcing people into corporates and helping company balance sheets."
Before it's here, it's on the Bloomberg Terminal.
LEARN MORE