Chris Christie Touts New Jersey Accomplishments as Budget Crunch Looms
Terrence Dopp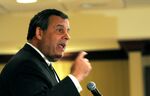 During a speech to New Jersey lawmakers and business leaders in Washington on Thursday night, Chris Christie recounted balancing five budgets without tax increases and persuading Democrats to support a pension overhaul.
Yet retirement costs and taxes still present a quagmire as the governor prepares to submit his budget to the legislature next week. New Jersey's pension costs will more than double in fiscal 2016 after Christie cut the state's contribution to close revenue shortfalls. Without tax increases, he has few options for replenishing the roadwork fund and covering rising expenses such as debt service.
How Christie tackles those issues may determine his future, as his decisions in New Jersey are scrutinized nationally before a potential White House run. The governor, who enjoyed record approval at home during his first term, has seen those ratings sink to lows, with voters listing taxes and the economy as their biggest concerns.
"The last thing you want to do is raise taxes on the eve of your announcement, but that revenue has to be raised somehow," said Ben Dworkin, director of the Rebovich Institute of New Jersey Politics at Rider University in Lawrenceville. "Policies go into the budget as well as funding."
Home Work
Christie and other Republican governors considering a 2016 run for president, including Wisconsin's Scott Walker, are tackling budget headaches as they travel the nation trying to generate support. Walker, facing a $283 million deficit that must be closed by the end of June, will skip more than $100 million in debt payments to balance books thrown into disarray by his tax cuts.
In New Jersey, Christie cut taxes on businesses and vetoed increases for the rich as he scaled back public-worker benefits and pension payments. Three straight years of overestimated revenue and a lackluster recovery from recession prompted the three biggest rating companies to downgrade New Jersey eight times under Christie, a record for a governor of the state.
"We have to grow this economy -- not the government," he said in his half-hour speech during the New Jersey Chamber of Commerce's annual field trip to Washington.
He said he'll continue to resist tax increases and press for "fairness." Since taking his seat, he said, he's held 127 town hall meetings and no one has asked to pay higher taxes.
Halfway through this fiscal year, collections had increased 7.2 percent, ahead of Christie's 5.2 percent target, helped by a tax-amnesty program and an extra day of processing. Though New Jersey's economy is improving, it "has a long way to go to full recovery," Standard & Poor's said in a November report.
"Even if the economy and revenues were to match or outpace New Jersey's forecast, it's unlikely to result in a higher rating," analyst John Sugden wrote.
No Pain
Christie, the first Republican elected New Jersey governor since 1997, took office in 2009 pledging to fix faltering finances. Assemblyman Gary Schaer, a Passaic Democrat who is chairman of the budget committee, said the governor's unwillingness to raise taxes has left the state unable to cover its costs, leading to increased borrowing.
Bonded debt under Christie increased 11 percent over four years to $41.8 billion. Including pension and retiree benefit obligations, New Jersey's debt climbed 45 percent to $84.9 billion in the same period.
For fiscal 2016, pension costs will climb at least $1.6 billion and debt service by $528 million. Christie and lawmakers also must find $1.2 billion to replenish the transportation fund, as all revenue from the gasoline tax dedicated to it goes toward debt service. Those three costs compose more than 10 percent of the $32.5 billion budget.
Standing Still
"What problems, exactly, have been solved since he came into office?" Schaer said. "We had a pension problem. We had a lack of future funding for the Transportation Trust Fund. We had higher-education funding which was at that time 49th in the country. These are still problems."
Christie has called for further reductions in pension benefits. Democrats, who control the legislature, have said they won't agree to more cuts until Christie makes full payments.
Christie's course will show national voters how he might tackle federal spending, said Erik Hyam, 29, an attorney from Chicago who watched the governor address almost 1,000 party members this month in Rolling Meadows, Illinois.
"That's one of the best gauges we can look at for a governor," Hyam said. "Anybody who's going to vote for any Republican has to be looking at it. It tells me where he wants to put his priorities."
Bottom Line
The Republican party is no longer motivated primarily by cultural issues, said Daniel Staackmann, a former mayor of the Chicago suburb of Morton Grove, who also attended the speech. Presidential candidates must understand trimming budgets and controlling taxes, he said.
"We've grown beyond just being a social-issues party," Staackmann said. "Everything goes back to money."
Back in New Jersey, residents have grown weary. Forty-two percent of voters approve of Christie's performance as governor, a decline of 6 percentage points since December, according to a Rutgers-Eagleton poll released Feb. 13. For the first time, a majority, 53 percent, viewed him unfavorably.
Sixty-eight percent of respondents said Christie's positions are dictated more by a presidential run than what's best for New Jersey.
Christie enjoyed approval of 70 percent for his leadership in the aftermath of Hurricane Sandy in 2012. Those numbers dipped last year after the release of e-mails linking allies to the shutting of traffic lanes leading onto the George Washington Bridge from Fort Lee, whose Democratic mayor declined to endorse Christie for re-election.
Christie Ascendant
The governor has tried to move past the scandal with public appearances. He formed a political action committee last month to expand his national visibility.
New Jersey Senator Sam Thompson, an Old Bridge Republican, said Christie's chances in the presidential race depend on what he's able to do this year to make the budget work.
"If he can come up with some solutions that people like, his star will go back up to the sky," Thompson said Thursday aboard a Chamber of Commerce train to Washington. "Right now it's all on the line. If he can produce right now for New Jersey, nothing can stop him."