Canada Retail Sales Drop Most in Four Years on Gifts, Gas
Greg Quinn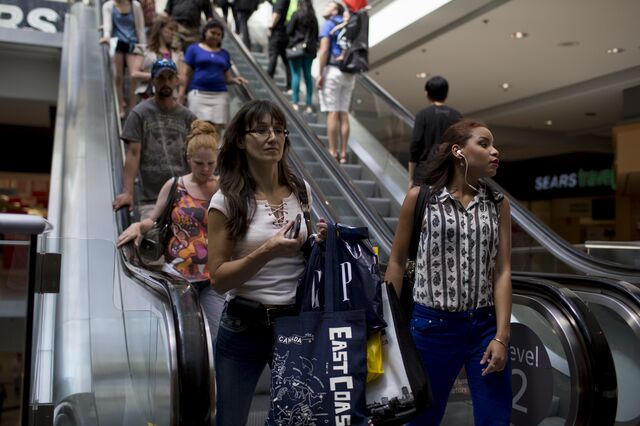 Canadian retail sales fell at the fastest pace in more than four years in December as consumers scaled back holiday gift purchases, a sign the effects of lower crude oil prices are spreading through the world's 11th largest economy.
Sales fell 2.0 percent to C$42.1 billion ($33.6 billion), the most since April 2010, Statistics Canada said Friday in Ottawa. Economists surveyed by Bloomberg News forecast a 0.4 percent decrease, based on the median of 18 projections.
"It's tricky to find any upside to this report," said David Tulk, chief Canada macro strategist at Toronto-Dominion Bank's TD Securities unit, whose prediction of a 0.8 percent decline was the most accurate among forecasters. "Holiday spending plans might have been curtailed out of a sense of prudence and uncertainty."
Receipts fell by 5.6 percent for clothing and accessories stores and 9.2 percent at electronics and appliance retailers. Gasoline sales fell 7.4 percent in December as prices fell, the sixth straight decline and the largest since December 2008. Economists had pointed to cheaper gas a potential relief to consumers who are grappling with record debt loads.
Broad Declines
"Most store types typically associated with holiday shopping registered weaker sales in December, more than offsetting November gains," Statistics Canada said.
Canada's dollar fell after the report, which may suggest consumer confidence is deteriorating after crude oil prices plunged by about half through the second half of 2014. The Bank of Canada cut interest rates last month in a surprise move that policy makers called insurance against the oil shock, which will probably hamper business investment and weaken consumer incomes and home sales.
Target Corp. said last month it would liquidate its Canada operations, meaning as many as 17,600 job losses. Suncor Energy Inc. also unveiled plans to fire 1,000 employees as the Calgary-based firm cuts capital spending.
Sales fell in nine of 11 categories making up 71 percent of retail trade in December, the agency said.
Friday's retail sales report also suggested falling oil prices are hurting consumer spending in Alberta, the heart of Canada's energy industry. Sales fell 2.5 percent in the western province, the third straight decline, Statistics Canada said.
Seasonal Patterns
Motor vehicle and parts sales fell 1 percent in December. Excluding that category, retail sales fell by 2.3 percent. Excluding motor vehicles, parts and gasoline, retailers reported a 1.3 percent drop in receipts.
Canada's dollar reversed gains after the report, weakening by 0.3 percent to C$1.2529 per U.S. dollar at 9:49 a.m. Toronto time. Federal government bonds rose. The yield on benchmark five-year debt fell 11 basis points to 0.74 percent.
Some of the the December decline may reflect a shift in seasonal spending patterns as more Canadian stores offer sales around the November U.S. Thanksgiving holiday, said Benjamin Reitzes, a senior economist at BMO Capital Markets in Toronto.
"There's no denying the breadth and depth of the weakness in the December retail figures, but they come with some big caveats," including the drop in gasoline prices, Reitzes wrote in a research note.
Before it's here, it's on the Bloomberg Terminal.
LEARN MORE