A Look at Dire Obamacare Predictions That Haven't Panned Out Yet
Some of the most pessimistic warnings over the Affordable Care Act have come from the current crop of would-be Republican presidential candidates.
By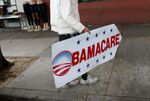 Since its inception, critics of the Affordable Care Act—or Obamacare, as it is popularly known—have warned that the legislation will prove disastrous for the nation. From dire predictions of job losses in the millions, exploding premiums, a steep jump in the number of uninsured Americans, and a return to economic recession, the pessimistic prognostication from many of the current crop of Republican presidential hopefuls has been especially pronounced.