Widodo Moves Sink Cement Stocks With Banks Seen Next at Risk
Harry Suhartono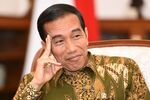 When vote counts in Indonesia's July presidential election showed Joko Widodo heading for victory, shares of the country's two biggest cement producers jumped to one-year highs.
What investors in PT Holcim Indonesia and PT Semen Indonesia didn't anticipate was Widodo's plan, announced last month, to impose price cuts on state-owned producers. The stocks have both lost at least 13 percent from their July peaks, wiping out gains fueled by bets Widodo's $18 billion infrastructure spending pledge would lead to an earnings windfall.
The intervention is sparking concern that Widodo's efforts to revive Southeast Asia's biggest economy from the weakest expansion in at least five years will come at the expense of some of the nation's largest companies. Bank earnings may also be at risk, according to Manulife Aset Manajemen Indonesia and UBS AG, after Indonesia's housing minister said last month that the government is considering reducing rates on loans for low-cost housing.
"There have been some instances that prompted concerns among investors on whether the government's policies were aimed at the benefit of the people, at the expense of capital markets," Alvin Pattisahusiwa, director of investment at Manulife Aset Manajemen Indonesia, which oversees about $3.8 billion, said by phone from Jakarta on Jan. 28.
Saleh Husin, Indonesia's trade minister, and Harjanto, the director general for manufacturing industry who goes by one name, didn't respond to text messages or calls to their mobile phones seeking comment.
Profit Margins
Jokowi, as the Indonesian leader is known, ordered state-owned cement producers to lower their selling price by 3,000 rupiah (24 cents) per bag on Jan. 16, without giving any details of the mechanism or time frame of the cut.
Semen Indonesia's shares dropped 10 percent last month, the worst monthly slide since November 2013, while the Jakarta Composite Index rose 1.2 percent. Holcim also slumped 10 percent, while PT Indocement Tunggal Perkasa fell 8 percent.
While Indocement's profit margin of 25.8 percent in the third quarter of 2014 was the highest among worldwide peers, with Semen Indonesia ranking second, analysts reduced their outlook for the stocks in the wake of the price cut.
Maybank Kim Eng Securities Indonesia downgraded both Indocement and Semen Indonesia to hold from buy and lowered their share-price targets by at least 17 percent, while HSBC Securities Asia reduced Semen Indonesia's price target by 18 percent to 9,300 rupiah.
Investment Risks
"The major risk for the cement industry is government intervention," said Arief Wana, a director at PT Ashmore Asset Management Indonesia, which oversees about 9 trillion rupiah ($706 million), including the country's best-performing equity mutual fund over the past 12 months. "You will see earnings cut and valuations re-rated."
Christian Kartawijaya, Indocement's president director, and Suparni, Semen Indonesia's president director who goes by one name, both said on Feb. 11 that lower fuel costs will help support profit margins.
Foreign investors have so far shown little concern about the outlook for Indonesian shares. The $418 billion market has lured net inflows of $518 million this year through Feb. 18, following $3.8 billion of purchases in 2014, according to data compiled by Bloomberg. The central bank unexpectedly cut interest rates this week.
The Jakarta Composite Index gained 0.2 percent to a record today. Holcim Indonesia was unchanged, while Semen Indonesia retreated 0.2 percent.
Infrastructure Spending
Jokowi's infrastructure plans will improve growth in the $862 billion economy and falling oil prices are set to boost private consumption, which accounted for 56 percent of the nation's gross domestic product last year, according to PT Sinarmas Asset Management. PT Unilever Indonesia, the nation's biggest maker of consumer products, has advanced 9.4 percent this year while PT Agung Podomoro, a Jakarta-based property developer, has jumped 41 percent.
"Infrastructure development will boost the economy and the lower oil price, which I think will go even lower from the $50 a barrel that we are seeing now, will help consumers and property stocks," Jeffrosenberg Tan, a money manager at Sinarmas Asset, said on Feb. 10.
In his first three months in office, Jokowi freed up 230 trillion rupiah of budget funds for infrastructure development by scrapping gasoline subsidies and capping government aid on diesel purchases. He plans to boost Indonesia's economic growth to more than 7 percent during his term in the office, from 5.1 percent last year.
Equity Derating
Investors are concerned that Jokowi's administration will take a more "hands-on" approach to state-owned companies, said Joshua Tanja, head of research for Indonesian equities at UBS AG in Jakarta.
The government is considering lowering interest rates on government-subsidized loans to buyers of low-cost homes, Bisnis.com reported on Jan. 20. The online version of Indonesia's largest business newspaper cited Basuki Hadimuljono, minister for housing and public works, for the proposal.
PT Bank Tabungan Negara, the state-owned lender that acts as an agent for government's home-loan program, tumbled 8.2 percent the day after the report and is down 12 percent this year. Maryono, the president director of Bank Tabungan who goes by one name, didn't answer calls to his mobile phone.
Investors should shift money into industries that have a lower chance of government intervention, including mobile-phone retailers and cigarette makers, John Rachmat, the head of research at PT Mandiri Sekuritas in Jakarta, wrote in a Jan. 19 research report.
He recommends shares of PT Gudang Garam, the largest tobacco company in the Jakarta Composite Index, and smaller rival PT Wismilak Inti Makmur. Rachmat also favors companies that benefit from the cement-price cut, such as PT Wijaya Karya Beton, which uses the material to make pre-cast concrete.
Investors are concerned some companies will have to "accept taking lesser profits for the greater good of the nation," Rachmat wrote. "It risks de-rating Indonesian equity values."
Before it's here, it's on the Bloomberg Terminal.
LEARN MORE