Why Supporting a Clean DHS Bill Wouldn't Be Crazy For Marco Rubio
Even if he hasn't actually backed one.
By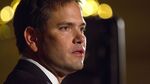 The initial reports caused sputters on Capitol Hill. Speaking in Nevada during his book tour on Wednesday, Florida Senator Marco Rubio signaled openness to the Senate passing a clean funding bill for the Department of Homeland Security, essentially letting stand President Barack Obama's executive actions on immigration (assuming they survive a recent court-ordered halt), according to the Las Vegas Review-Journal.
That the Tea Party darling and possible presidential candidate appeared to be imploring his colleagues to give Obama a win—on Senate Minority Leader Harry Reid's turf, no less—seemed to further splinter Republicans ahead of a showdown with the White House over which party's stubbornness would threaten the safety of the American people.
"I'm in favor of any measure that has a chance of succeeding that could stop the new order" from Obama on immigration, Rubio said, according to a transcript of the his remarks that his office released. But, Rubio said, the president wouldn't sign a bill that rolls back his immigration action, which is stuck in the Senate. "We can't let Homeland Security shut down."
His staff said his words got twisted, and the transcript release was an effort to fight the impression Rubio was advocating for retreat. Spokesman Alex Conant insisted that the senator does not support a clean bill and that his comments didn't imply that. "The answer is for the President and Senate Democrats to abandon the executive order and cooperate in passing a series of immigration bills," Conant wrote in an e-mail.
Rubio's own history underscores how tricky immigration is as a political issue. He backed a comprehensive reform bill that passed the Senate in 2013 that would have created a citizenship pathway for many undocumented immigrants. Under fire among conservatives, he moved away from support for a comprehensive measure in favor of a step-by-step approach while the original bill languished in the House.
But for a Republican presidential hopeful in Nevada, a key early nominating state, it wouldn't have been so far-fetched to take a clean-DHS position. Nevada has the highest share of people who came to the U.S. illegally in its workforce, according to the Pew Research Center. Allies of theirs who can vote and donate—from entertainment magnates to the quarter of the state that the Census says is Hispanic—might not be too keen on a hard-line stance, and could reward moderation. (Rubio was also confronted during his visit by "pro-immigration activists" and undocumented immigrants, according to the Review-Journal.)
Indeed, there are signs that former Florida Governor Jeb Bush's support for immigration reform could pay dividends.
And on the national level, there's evidence that Senate Republicans' strategy on the DHS bill carries risks. In a CNN/ORC poll released Tuesday, 53 percent of Americans said they'd blame congressional Republicans if DHS had to shut down because of the fight. Only 30 percent said they'd blame Obama.