Why Supporting a Clean DHS Bill Wouldn't Be Crazy For Marco Rubio
Even if he hasn't actually backed one.
By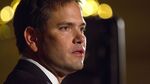 The initial reports caused sputters on Capitol Hill. Speaking in Nevada during his book tour on Wednesday, Florida Senator Marco Rubio signaled openness to the Senate passing a clean funding bill for the Department of Homeland Security, essentially letting stand President Barack Obama's executive actions on immigration (assuming they survive a recent court-ordered halt), according to the Las Vegas Review-Journal.