Volkswagen's Sort-of Union in Tennessee
VW and the UAW are odd bedfellows at a Southern U.S. plant
By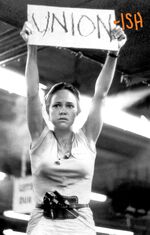 A year ago in Chattanooga, the United Auto Workers suffered a surprise setback. A vote at Volkswagen, the union's high-stakes stab at securing a rare foothold among foreign automakers in the South, ended in embarrassing defeat. Yet in January, VW and the UAW started holding thrice-monthly sit-downs anyway. Some labor leaders hope it will soon blossom into an unusual "minority union" arrangement, where a union represents and negotiates contracts for those employees who sign up, whether or not it has majority support.
"It's uncharted territory," says former National Labor Relations Board Chair Wilma Liebman, who since has done some legal work for the UAW. "I certainly think it has promise. Where it all ends up, I guess, remains to be seen."
The meetings with the UAW, part of a "Community Organization Engagement" policy rolled out by VW Chattanooga in late 2014, kicked off in January after VW certified that the UAW represents at least 45 percent of its hourly employees. (Groups certified to represent 15 percent or 30 percent of workers get regular meetings under the policy too, but less often.) They offer a forum for the UAW to raise workplace issues, ranging from who works the graveyard shift to how much work the company gives lower-paid temps.
"It might not get everything we want accomplished," says VW team leader Dave Gleeson, a member of the UAW's elected bargaining committee. "But it's better than we used to have, where we'd tell our supervisor, maybe our HR rep, and it ends up in the circular file."
For a U.S. auto plant, the setup is highly unusual—but so is Volkswagen, which was created in 1937 by the German government. The law that privatized VW in 1960 also gave employee representatives some say about proposed factory closures, and effectively gave its home state of Lower Saxony veto power as the company's dominant shareholder at the time. Half the seats on Volkswagen's supervisory board are held by labor representatives.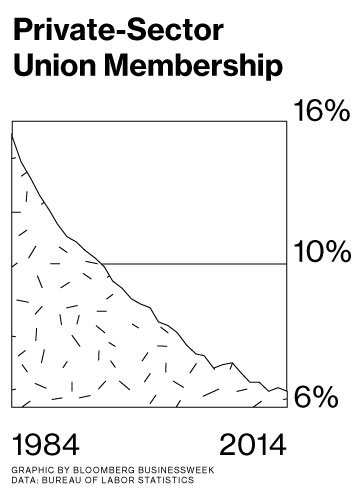 At most VW plants worldwide, union contracts govern pay and benefits. Local "works councils"—elected bodies representing both blue-collar workers and management—also review company financial information and shape policies on staffing and scheduling. Most plants also send delegates to a companywide works council, which helps make global decisions like where to expand production. "They really do see as their competitive advantage that they involve people in their management of their company," says Kristin Dziczek, who directs the Industry & Labor Group at the nonprofit Center for Automotive Research.
Both VW and the UAW have endorsed bringing the works council model to the U.S.—one of the only countries, along with China and Russia, whose VW plants lack one. A federal law banning "company-dominated" unions prevented a works council as long as the VW plant was nonunion, but some legal experts believe even a "minority" union may remove that obstacle.
In a November statement announcing the new "engagement policy," Sebastian Patta, the Chattanooga plant's executive vice president for HR, said, "Volkswagen has a long tradition of positive employee engagement at our plants around the world, and we welcome this in our company." The company declined to be interviewed.
Before Congress created the modern collective bargaining system by passing the National Labor Relations Act in 1935, U.S. workers often struck and protested to win contracts that covered only those employees who participated. Today, many workers who can't win or haven't won full unionization, from public employees banned from collective bargaining to striking McDonald's workers, still band together to pressure bosses. But for a company in the U.S. to formally bargain with a "members-only" union is almost unheard of.
"The technical and legal arrangement that UAW may have, or others may have, at VW, those may be not technically unionization," says Tennessee State Senator Bo Watson, a Republican and a critic of the new setup. "But to the average constituent of mine … they're concerned that the UAW is developing and negotiating a presence at VW, and they think that has the potential to have a negative effect on the economic development and business development in Southeast Tennessee."
UAW membership, 1.5 million at its peak in 1979, now totals around 400,000. Unions' share of the U.S. private-sector workforce, once a third, is about a fifteenth. Organizers' prospects are even bleaker in the South, where local laws and culture make unions especially difficult to build. The lower-wage, union-scarce region has become a favored destination for companies looking to shift production or expand. That includes foreign automakers such as Japan's Toyota Motor and Nissan Motor, South Korea's Hyundai Motor and Kia Motors, and Germany's BMW—none of which have UAW contracts.
Against that backdrop, many labor activists see any kind of recognition as a chance to establish a beachhead in an otherwise union-free environment. A minority union, the theory goes, could grow into a majority one—just as the UAW did in the years after its 1930s sit-down strikes. "The sooner that the workers can get to organizing and demanding rights and having a voice in the workplace—even if that's not the majority of the workers—I think that's good," says labor lawyer Moshe Marvit, a fellow at the Century Foundation.
Other activists worry that embracing a form of unionization-lite could help supplant what strength organized labor has left. In Chattanooga, the UAW is already contending with a competing group, the American Council of Employees, many of whose leaders backed the No2UAW group that campaigned for "no" votes in last year's VW election. On Feb. 16, VW announced that ACE had secured the 15 percent support to merit its own meetings with VW management. "One of my biggest things is I don't really feel that we need collective bargaining," says former ACE Interim Treasurer Keri Menendez. "They treat us really well."
Few expect the Chattanooga model to upend traditional unions. "I think if the Volkswagen thing is a success, it will remain isolated," says historian Nelson Lichtenstein, who directs the Center for the Study of Work, Labor & Democracy at the University of California at Santa Barbara. "If it turns out to be highly useful to the right-wing groups, then I think this could be a precedent that other companies will try to impose on their weak unions that are just barely hanging on."
Pro-union workers in Chattanooga are split, too. "I would see a minority union as a step for other workers to see the benefits of being in a union," says Mike Cantrell, the local UAW president. Yet skeptics ask if the UAW's goals for minority unionism—spurring workers to get involved by delivering improvements, and enticing management to grant full recognition by showing it can be reasonable—are incompatible. "They're trying to seduce the company," says Byron Spencer, a pro-union VW employee who faults the UAW for staying away from grass-roots activism, like a petition protesting abuse of temps.
National UAW Secretary-Treasurer Gary Casteel says partnering with management isn't to be feared. "This whole notion that you have to be adversarial to achieve things for your employees kind of flies in the face of reason," he says. "Nobody has any more equity in that company than the employee that works for it."
The bottom line: The UAW lost a unionization election at VW's Tennessee plant in 2014. Yet it still meets thrice monthly with management.
Before it's here, it's on the Bloomberg Terminal.
LEARN MORE