Ukraine Rebels Thirst for Territory After Debaltseve
Stepan Kravchenko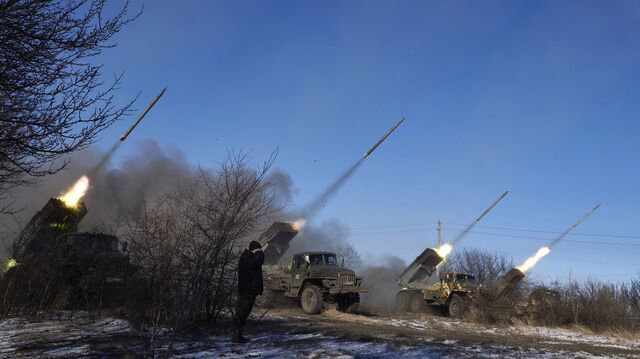 This is what a cease-fire looks like in eastern Ukraine: Vuhlehirsk, a village seven kilometers from the disputed town of Debaltseve, was redolent with acrid smoke Wednesday, constantly shaken by the deep thunder of tanks and artillery cannons as separatists fired on Ukrainian positions.
Along much of the front line, both sides have largely observed the truce agreed to last week in Minsk, Belarus. But around the strategic rail hub of Debaltseve the rebels pushed the advantage that they had gained from weeks of shelling government forces. On Wednesday, thousands of battle-weary Ukrainian troops withdrew from Debaltseve -- leaving rebels thirsting for more territory, cease-fire or not.
"We must kill them all now," said Evgeny, a fighter from Donetsk nicknamed Boroda, or Beard. "Just a perfect day!"
Two days of reporting behind rebel lines revealed troops pumped with the exhilaration of victory and ready to continue fighting. That contradicts statements by the separatist leadership that they will respect the terms of the truce, but Frederik Erixon, head of the European Center for International Political Economy in Brussels, says it may be difficult to stop the momentum.
"The rebels are on a mission to stretch this border even further," Erixon said. "I don't think they are satisfied with the outcome so far."
Insurgents say the assault on Debaltseve doesn't breach the Minsk agreement because the town was a pocket of resistance in an area under separatist control, and taking it didn't represent an expansion of their territory. Germany, a guarantor of the pact, has denounced the attack as a "massive violation" of the agreement.
Mariupol's Fate
The more important question is the fate of Mariupol, a port city of 400,000 people on the Sea of Azov about 200 kilometers south of Vuhlehirsk. U.S. officials have said they see Mariupol as the last major obstacle to opening a land route from Russia to Crimea, the peninsula that President Vladimir Putin annexed last year, precipitating the crisis.
Ukrainian President Petro Poroshenko on Wednesday urged the deployment of peacekeepers to bolster the cease-fire after the retreat from Debaltseve, which he called a "very difficult, but decent" move. Oleksandr Turchynov, the head of the country's national security council, warned that the conflict is threatening to turn "chronic" as a new line of confrontation has formed.
More Territory
Rebel commander Viktor Anosov, a man known as Nos, or The Nose, vows to keep fighting. A tall, white-haired man from the Crimean city of Simferopol, Anosov moved his detachment to Vuhlehirsk three weeks ago. He says the rebels will drive the government forces from the rest of the Donetsk and Luhansk region. And then?
"When we approach the borders, I can't rule out other regions joining our cause," said the 49-year-old, who serves as the military police chief of the self-proclaimed Donetsk People's Republic.
Vuhlehirsk -- known in Russian as Uglegorsk -- had about 8,000 residents a year ago and is largely uninhabited today. Many buildings are in ruins, and where walls still stand, they're pocked with bullet holes. Relics of tanks sink slowly into the muddy fields. Fighters take selfies in front of a burned-out armored personnel carrier with the slogan "Glory to the Heroes" -- a rallying cry of the protests that ousted Ukraine's Kremlin-backed president a year ago. Soldiers plant mines in a field as a column of infantry trucks passes by.
Wooden Hut
Anosov, who controls his men from a wooden hut at the edge of Vuhlehirsk, says his detachment has suffered no casualties recently. He said there's another group of government troops with several tanks stranded in Savelivka, a village out across the barren fields and hedgerows, a bit closer to Debaltseve.
"They are surrounded without any hope of getting reinforcement," Anosov said.
Ukrainian military spokesman Anatoliy Stelmakh said he has no information of government troops being surrounded near Vuhlehirsk. There are some soldiers "in certain locations near Debaltseve," being extracted by special forces, he said.
At least a dozen of Anosov's detachment appeared to be Russians from Siberia. The Kremlin denies assertions by the Ukrainian government, the U.S., the EU and the North Atlantic Treaty Organization that it's sending troops and military supplies to the rebels, and says that any Russians who have joined the fighting are "volunteers."
Andrei, 27, says he has served as a sergeant in the Russian army and that he fought radical Islamists in Chechnya four years ago. A small, unsmiling man with the features of a Yakut, an Asian ethnic group from eastern Siberia, Andrei says he wasn't ordered to come to Ukraine, it was his choice.
"This is a job for me," said Andrei, who declined to give his full name out of concern for his security.
Phones, TV
The rebels say living rough as soldiers is fine, within limits. They don't mind the lack of showers, but they wouldn't want to do without calls home. So they fire up a generator a few times a day to recharge their mobile phones and watch the news on Russian state TV. Some approach to ask for a spare Nokia battery.
In Vuhlehirsk, there's been no electricity or gas for a month, making the simple routines of daily life almost impossible for the handful of residents who haven't fled.
"Here is your cease-fire," said Vladimir Gorovoy, 53, a former miner who says his house was destroyed by government shells a week ago. Out walking his two puppies, he shows burns on his hands from the attack and vows to join the rebels to "liberate my land."
Vera Kirichenko, a farmer who sold milk before the war, says she stayed to take care of her two cows, Nyuta and Gerda. Though the animals are getting perilously lean, Kirichenko and her husband have been surviving on the potatoes they managed to store in the root cellar last fall.
"You know what I want? First, I want silence," said Kirichenko, 42. "And second, I need a job. I don't care who's in control here. I'll be happy with anyone who can give it to me. Ukrainians or Russians, I don't care."
Before it's here, it's on the Bloomberg Terminal.
LEARN MORE