Nasdaq Composite Rises for 7th Straight Day as Priceline Soars
Callie Bost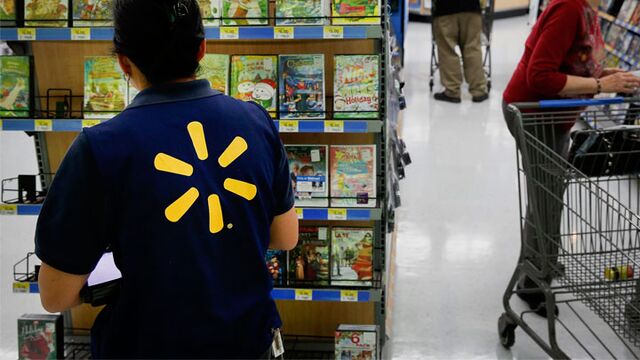 The Nasdaq Composite Index rose for a seventh straight day, the longest winning streak in a year, as Priceline Group Inc. led a rally in Internet stocks.
Priceline climbed 8.5 percent after posting better-than-estimated fourth-quarter earnings. Wal-Mart Stores Inc. lost 3.2 percent after saying wage increases and other spending initiatives will boost expenses. Energy companies in the Standard & Poor's 500 Index slipped 0.8 percent, after earlier falling 2.5 percent, as crude trimmed losses.
The Nasdaq Composite climbed 0.4 percent to 4,924.7 at 4 p.m. in New York, the highest level since March 2000. The S&P 500 fell 0.1 percent to 2,097.45. The Dow Jones Industrial Average declined 44.08 points, or 0.2 percent, to 17,985.77. About 6 billion shares changed hands on U.S. exchanges, 13 percent below the three-month average.
"Markets are either making new highs or going to pre-2008 highs," Paul Zemsky, the head of multi-asset strategies at Voya Investment Management LLC, which oversees $213 billion, said by phone from New York. "The backdrop is still pretty good for equities and people are still climbing the wall of worry. With interest rates low around the world, you're not going to find many other places with better returns."
The Nasdaq Composite has soared 4.2 percent in seven days. It is now 2.5 percent away from an all-time high reached in March 2000, which preceded a 78 percent drop in the shares.
While the Nasdaq has been rallying, the S&P 500 has barely budged from its record level. The benchmark index has closed within four points of 2,100 for four consecutive days, reaching its highest level of 2,100.34 on Feb. 17.
S&P 500 Stalls
The S&P 500 also stalled at a record level in August, when it ended within four points of 2,000 for eight trading sessions before hitting a new all-time high of 2,007.71 Sept. 5.
Equities pared earlier losses Thursday on speculation that Greece will reach an agreement on debt negotiations. Germany is leaving the door open to an agreement on Greece's bailout funding as officials prepare their negotiating positions going into a meeting of finance ministers in Brussels Friday.
Germany regards a proposal submitted by Greece to fellow euro-region governments as a basis for negotiations and doesn't necessarily see a need for Greece to submit a fresh draft, according to a German government official who asked not to be named because the discussions are private.
Fed Patience
The S&P 500 erased a loss Wednesday on speculation that the Federal Reserve will keep rates lower for longer. Minutes from the Fed's latest meeting showed some policy makers argued for keeping rates low for longer amid risks facing the economy.
The Federal Open Market Committee pointed to a strengthening dollar, international flash points from Greece to Ukraine, and slow wage growth as weakening the case for the first rate rise since 2006, according to a record of the Jan. 27-28 meeting.
The FOMC said after its last meeting it "can be patient" as it considers when to raise the benchmark interest rate, even as it described the labor market as "strong." A report the following week showed payrolls rose more than forecast in January to cap the strongest three-month gain in 17 years.
Economic Data
Fewer Americans than forecast filed applications for unemployment benefits last week, showing the labor market is making progress. Jobless claims fell by 21,000 to 283,000 in the week ended Feb. 14, from 304,000 in the prior period, a Labor Department report showed Thursday in Washington.
The Conference Board's index of leading economic indicators, a measure of the outlook for the next three to six months, climbed 0.2 percent in January, the New York-based group said Thursday. The median forecast of 49 economists surveyed by Bloomberg called for a 0.3 percent advance.
Technology Surges
The Chicago Board Options Exchange Volatility Index fell 1 percent to 15.29. The gauge of S&P 500 options prices known as the VIX fell 15 percent last week.
Six of 10 main S&P 500 industries fell, with utilities sliding 1.1 percent as 10-year U.S. Treasury yields increased. Technology shares led gains, rallying 0.4 percent.
Priceline climbed 8.5 percent, its biggest gain since September 2014, after the largest U.S. online travel agent reported quarterly revenue and profit that topped analysts' estimates, buoyed by increased international bookings through its websites. Rival TripAdvisor Inc. rose 3.6 percent to its highest level since October, while Expedia Inc. rallied 2.4 percent to a two-month high.
Facebook Inc. jumped 3.5 percent and Twitter Inc. advanced 1.8 percent, fueling a 1.6 percent rise in the Dow Jones Internet Composite Index.
Airlines Rise
Airlines added to Wednesday's gains on oil's decline, led by Delta Air Lines Inc.'s 1.4 percent rise. American Airlines Group Inc. added 1 percent and JetBlue Airways Corp. advanced 1.1 percent.
Oil prices fell 1.9 percent, paring declines of as much as 5.7 percent after a weekly government report showed U.S. crude inventories increased less than was reported by an industry group. The report showed stockpiles in the world's biggest consumer still expanded to a record level.
Energy companies in the S&P 500 lost 0.8 percent after dropping 1.5 percent Wednesday. The group had added 3.5 percent over the three sessions prior to Wednesday's decline.
EOG Resources Inc. fell 1.6 percent after the fastest-growing oil producer in the U.S.'s fourth-quarter profit missed estimates. The company plans to slash spending 40 percent and drill half the wells it did in 2014.
Wal-Mart Falls
Transocean Ltd. slid 2 percent as analysts said the owner of the world's largest fleet of offshore rigs will have to do more than slash its dividend by 80 percent to weather the oil price crash.
Wal-Mart fell 3.2 percent to its lowest close in two months after the retail giant said wage increases and spending on e-commerce initiatives will pressure operating income this year. Fourth-quarter profit exceeded analysts forecasts.
Earnings for S&P 500 companies will probably drop in the next two quarters after a 4.2 percent increase in the last three months of 2014, according to analysts' forecasts compiled by Bloomberg. More than 80 percent of S&P 500 companies have reported results for the final quarter of 2014, with 75 percent beating profit estimates, while 57 percent topped sales projections, data compiled by Bloomberg show.