Fashion
Six Sexy Pantsuits for Her: A User's Guide
Because there are role models beyond Hillary Clinton
By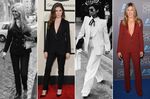 If I am being honest, I never considered my mom much of a style inspiration. I remember her leaving for work in flesh-toned stockings, silk bows tied at her neck, and layers of wavy 1980s frosted brunette hair. (Think Diane Keaton's character in Baby Boom.)
But looking back now, both fondly as a daughter and as a working woman myself (who also happens to think and talk about clothing professionally), I realize her style point of view was more dynamic and influential over me than that.
You see, that was her 9-to-5 getup. She was a CPA, whip-smart and seriously serious about her career. But she was also a beautiful woman, one completely aware of the power of her feminine wiles (used wisely, and when appropriate). When off the clock, she traded her shoulder pads in favor of off-the-shoulder bodysuits, hoop earrings, and hip-hugging jeans. (Think Cher's character in Mermaids.)
It's this juxtaposition, showcasing the power of femininity, that I think of every time I see a sexy and successful woman in a killer pantsuit. Done right, a fits-like-a-glove pantsuit can be the most commanding of ladywear fashion statements. (See Anna Kendrick at the Grammys or Jennifer Aniston at the Critics' Choice Awards.)
So here's to you, mom: six pantsuits to try now. Flirty yet tasteful, these combos prove yet again that women can be two things at once.
The Navy Double-Breasted

Modernize the traditional look with tapered, folded-cuffs pants, like this pair by Band of Outsiders. Score bonus points for also going with gold, metal buttons on a nautical-inspired double-breasted blazer. (Blazer, $1,095, net-a-porter.com; pants, $525, net-a-porter.com)
The Micro-Print

This textured-dot-blazer-and-cropped-trousers set by Reiss is the perfect, subtle way to add all-over pattern play both easily and stylishly. (Blazer, $370, reiss.com; trousers, $210, reiss.com)
The Draping Off-White

Channel your inner Claire Underwood (Robin Wright in House of Cards) in this well-cut, no-nonsense crepe blazer by Lanvin and matching tapered grosgrain pants. Blouse underneath, optional. (Blazer, $2,245, net-a-porter.com; pants, $990, net-a-porter.com)
The Bold Solid

Look to Queen Bey's younger sister Solange Knowles for style inspiration when thinking about donning a bold power suit—like this red one by Tomas Maier. (Blazer, $695, matchesfashion.com; pants, $425, matchesfashion.com)
The Black Shawl Collar

This Alexander McQueen shawl-collar blazer (and narrow boot-cut trousers) is the ultimate femme-fatale-meets-boss-lady suit: low-cut and black with silk lapels. (Jacket, $2,345, alexandermcqueen.com; trousers, $875, alexandermcqueen.com)
The Striped Separates

Busy toppers, like this black-and-white striped blazer by Zara, look best styled with a solid, slimmed-down bottom like these high-waisted trousers. You could also try this versatile look with black cigarette-leg jeans or pleated cream pants. (Blazer, $149, zara.com; trouser, $79.90, zara.com)
Nic Screws is the style director at Bloomberg. Follow her on Instagram and Twitter.
Before it's here, it's on the Bloomberg Terminal.
LEARN MORE