Shear the Beard: Seven Shaving Tools
We've reached peak beard. Some tools to trim yours back—or shave it off entirely
By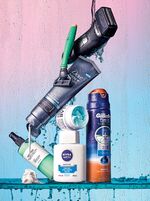 Scruff is now fair game at the office, "but we're seeing more guys that are clean-shaven," says San Diego dermatologist Jeffrey Benabio. For those joining in, here are the tools you'll need.
1. Remington Smart-Edge Shaver
$129.99; remingtonproducts.com
Most electric razors use rotary or foil blades; this employs both simultaneously for a closer cut in just one pass. (OK, maybe two.) A digital display tells you how many minutes of battery life remain.
2. Harry's Jimmy Chin Shave Set
$20; harrys.com
The "Teton green" handle is part of a limited-edition, boldly colored set, inspired by the adventure photographer Jimmy Chin. Harry's, an online startup, sends two five-blade heads and shave gel along with it.
3. Dove Men+Care Pro-Moisture Shave Cream
$5.99; target.com
In colder weather, shave creams hydrate better than their gel counterparts. This one isn't too greasy, plus it barely has a scent; it's good if you're worried about irritating your skin.
4. Baxter of California Shave Tonic
$15; baxterofcalifornia.com
Fake the barbershop at home: Moisten a face towel with this spray, then press it against your mug for a minute. Eucalyptus and menthol oil open pores to help hair come off smoothly.
5. Nivea Men Sensitive Cooling Post Shave Balm
$6.59; drugstore.com
After-shave may seem like an annoying final step, but the ingredients in this one, including chamomile and seaweed, help reduce inflammation and redness. Try it if razors tend to ravage your neck.
6. Lab Series Age Rescue + Water-Charged Gel Cream
$50; labseries.com
Shaving basically removes a layer of skin, so moisturizing afterward is a good call. Look for a water-based, oil-free lotion that won't clog pores.
7. Gillette 2-in-1 Shave Gel Plus Skin Care
$4.99; target.com
This shave gel, after-shave, and moisturizer in one is meant to free up time in the morning. The packaging has been redesigned to include a dispenser that resists rust and won't clog.
Before it's here, it's on the Bloomberg Terminal.
LEARN MORE