Bearish Pound Hedges Build Before Vote as Gilts Spared
Anchalee Worrachate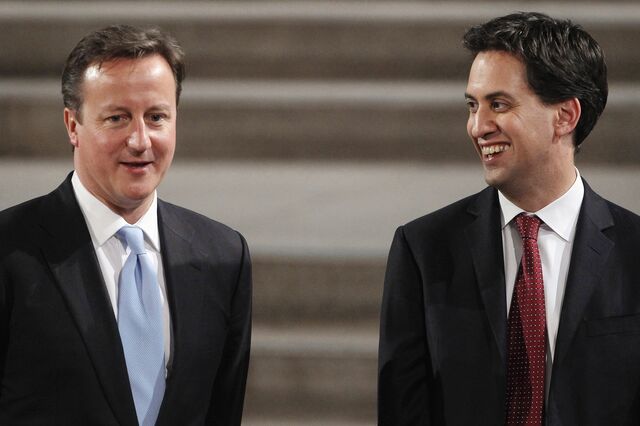 Clouds are gathering for the pound after a world-beating performance in the past month.
Foreign investors are using Britain's currency and derivatives to hedge against the investment risks of May's general election. Options granting the right to sell sterling versus those allowing for purchases are the most expensive in more than three years. As before the last vote in 2010, overseas bondholders are hanging on to their gilts.
Money managers from Amundi, Investec Asset Management Ltd. and Sumitomo Mitsui Trust Asset Management Co. said they're locking in prices on sterling to cushion the fallout of post-election political instability. Scenarios range from a Labour-led government cutting back on deficit reduction to another term for the Conservatives, who support a referendum on whether Britain should leave the European Union.
"The currency is potentially going to be more influenced by uncertainty coming from the election than gilts," said John Stopford, head of fixed income at Investec in London, which has $112 billion in assets. "The election result is unlikely to have an immediate impact on the interest-rate outlook that the U.K. bond market is very much dependent on."
The hedging signals that sterling may be at a crossroads after gaining 4.8 percent in the past month, second to none in a basket of 10 developed-nation currencies tracked by Bloomberg Correlation-Weighted Indexes. This was helped by Bank of England officials stressing that an increase in borrowing costs is more probable than a cut as a slump in inflation will be temporary.
Put Options
Upside for the pound may be limited, at least through the May 7 elections, as asset managers and hedge funds position themselves with derivatives and even bet for declines.
The premium for six-month options to sell sterling for dollars versus those allowing for purchases increased to 2.54 percentage points earlier Thursday in London, set for the highest close since 2011. The pound dropped 0.1 percent to $1.5414 against the dollar as of 2:07 p.m. London time.
Polls show the Tories and Labour are on course to win a similar number of seats, both short of a parliamentary majority. That means either one would need a coalition partner to govern, increasing the potential for policy surprises.
Stopford said his fund has reduced sterling holdings to neutral from overweight to reflect the political risk. A neutral position is one in which an investor holds the same percentage of an asset as contained in indexes used to monitor performance.
Scottish Comparison
Based on market moves in the run-up to the Scottish Referendum on independence in September, trading currency volatility is among the best ways to protect against instability, according to Merrick Styles, co-head of investments in global fixed income at Amundi, which has almost $1 trillion under management.
Implied price-volatility in the pound against the dollar for six months closed at 10.5 percent on Feb. 11, its highest level since June 2012.
"Looking back to the Scottish referendum, currency volatility started to spike about two weeks before, and after the result quickly collapsed," Styles said. "Gilts may have some volatility, but the main driver of gilt yields will be U.S. interest rates, and global risk-aversion."
During the previous election in May 2010, the volatility gauge rose to about 16 percent.
Latest Polls
Of 13 recent polls, 11 showed Labour ahead, mostly within the margin of error. A YouGov/Sun poll published on Wednesday showed Labour at 34 percent, two percentage points ahead of the Conservatives, and a TNS poll published on the same day put Labour ahead by seven points.
Betters have a different view. Odds from U.K.'s bookmakers and betting exchanges show a second term for a coalition of the Conservatives and Liberal Democrats is the most likely outcome.
For Hideaki Kuriki, a money manager at Tokyo-based Sumitomo Mitsui Trust, which manages $41 billion, "uncertainty" is one major reason why he is bearish on the pound. Kuriki said the British currency, which was trading at about 1.36 euros on Thursday, will fall to the range of 1.28 to 1.30 euros as the vote approaches.
Kuriki said he is long gilts, judging that low inflation will limit the scope for interest-rate increases. Consumer prices rose at the slowest pace in January since at least 1989, a report this week showed. A long position is a bet that an asset price will rise.
Gilt Purchases
Foreign investors bought 6.15 billion pounds ($9.5 billion) more than they sold of gilts in December. The pound declined 1.1 percent against the dollar during the period.
In the run-up to the May 2010 election that brought the Conservatives to power, foreign investors were net buyers of gilts in February, March, April and May. The pound declined against 13 of 16 of their major peers during that period.
"The risk of post-election political instability is high," said Mark Dowding, partner and money manager at Bluebay Asset Management, which is wholly owned by the Royal Bank of Canada. "We look to express that view on the pound rather than on U.K. gilts."
Before it's here, it's on the Bloomberg Terminal.
LEARN MORE