Payday Lenders Escaped Regulation, but Now They Face the Church
Alabama clergy casts such lending as a war between God and greed
By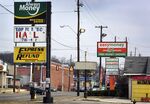 On one mile of the Atlanta Highway in Montgomery, Ala., more than a dozen stores offer payday loans or cash on a car title, or they let you pawn a ring. Easy Money, Always Money, TitleBucks: They remind the Reverend Shannon Webster of vultures.
"To cluster like that for the purpose of ripping off the poor, it's against every kind of moral instruction that we have," said Webster, 62, pastor at Birmingham's First Presbyterian Church.

In a confrontation that clergy cast as God vs. greed, religious leaders and consumer advocates in such U.S. states as Alabama, Kentucky, and New Mexico are trying to limit annualized interest on short-term loans that can reach 456 percent, more than 35 times higher than the average fixed-rate credit card.
In Alabama, the sixth-poorest state, previous efforts died thanks to opposition from an industry that metamorphoses to escape regulation, showers lawmakers with donations, packs hearings with lobbyists, and has fought a common database to enforce a $500 loan limit. Advocates say the increased involvement of religious groups may carry the day in the Bible Belt.
Both state conferences of the United Methodist Church and the Alabama Baptist State Convention, 3,200 churches and 1.1 million members strong, passed resolutions last year calling for curbs on lending. A March rally with advocates and religious leaders is scheduled before the legislative session, and churches are pushing members to lobby lawmakers and attend hearings.
"I've seen what church people can do when they understand the issue and get behind it," said Travis Coleman Jr., 65, senior minister at First Baptist Church in Prattville and convention president.
Payday loans in the 30 states that allow them are pitched to borrowers who need cash until their next paycheck, usually secured by a postdated check; title loans in 21 states are based on a vehicle's value.
Lenders say they price their loans according to risk and that advocates are trying to put them out of business, depriving their customers of small-dollar, short-term loans they can't get elsewhere.
"More people have left their relationship with us better off than when they started, or we wouldn't be here," said Ted Saunders, chairman and chief executive of Community Choice Financial in suburban Columbus, Ohio, which operates 600 stores in 15 states, including Alabama.
Even so, title-loan defaulters can have vehicles repossessed. More than 80 percent of payday loans are rolled over or followed by another within 14 days, according to data from the U.S. Consumer Financial Protection Bureau.
In advance of new rules the bureau is considering, payday companies have been expanding title lending, moving to high-fee installment loans, or trying to win approval for new products, said Diane Standaert, director of state policy at the Center for Responsible Lending in Durham, N.C. The consumer agency can't cap interest, which is the most effective regulation, Standaert said.
In Alabama, advocates want 36 percent caps on payday loans, which can have annualized interest of 456 percent, and on title loans with rates as much as 300 percent.
Coleman, the Baptist pastor, said that while he had noticed payday storefronts, he didn't fully understand what happened behind them until becoming conference president last year.
In college, Coleman worked as a bill collector. He would knock on doors in poor neighborhoods to get payments or repossess goods from people he knew should never have gotten credit, he said.
"I saw how quickly people can get in trouble," he said.
Now he's preaching Proverbs 22:7: "The rich ruleth over the poor, and the borrower is servant to the lender."
Saunders, the payday executive and board member of the Community Financial Services Association of America trade group, said churches shouldn't set public policy.
"I don't think the churches deserve to have any larger voice than the millions of consumers who use the product," he said.
Sixty-three percent of Alabamians attend church regularly, behind only Utah and North Dakota, according to the Association of Religious Data Archives. The question is whether pastoral outrage can overcome "institutionalized, well-organized money," said Stephen Stetson, an analyst at Alabama Arise Citizens' Policy Project, a nonprofit advocacy group in Montgomery.
Industry groups and lenders such as Advance America Cash Advance Centers and TitleMax have given more than $300,000 to lawmakers and political committees since 2013, Alabama secretary of state records show.
Lenders have hired more than 20 lobbyists, said Shay Farley, legal director for the Alabama Appleseed Center for Law & Justice in Montgomery, an advocacy group. They line the walls of committee rooms and whisper to lawmakers during hearings, Stetson said.
Max Wood of Birmingham, who owns six payday and title locations and speaks for the Borrow Smart Alabama trade group, said the industry doesn't wield outsize influence and goes where its customers are, just like other retailers.
"It's not the downtrodden that come into our stores," Wood said. "And obviously, the demand is pretty high."
He points to borrowers such as caterer Fred Cobb of Birmingham, who stopped at Title Cash in suburban Center Point recently to pay interest on a title loan backed by his truck.
Cobb said he uses the money to buy barbecue meat, then repays it after he gets paid for an event. Even though he sometimes pays interest for months, it's easier than going to a bank, he said.
"I can come in here and leave with $300 in 30 minutes or less," said Cobb, 55. "It makes things move faster." 
Then there are stories like Jacque Meyer's.
Meyer, 68, of suburban Birmingham, said her 45-year-old son is a heroin addict who borrowed as much as $10,000 before going to jail on robbery charges in November.
Her son easily avoided the $500 loan limit, she said. Lenders recently sent him a notice saying he was prequalified for a $250 loan, as well as $25 coupons and slips offering cash for referrals.
"For an addict, this is another drug dealer," Meyer said. "As a mother, it just repulses me that this—although it's my son's fault—is another part of a predatory game."
The inability to track loans demonstrates the industry's dominance, advocates say.
When the legislature authorized payday loans in 2003, the original bill said lenders must use a statewide database to monitor the $500 limit. The phrase "where available" was inserted in the bill sponsored by Republican State Senator Gerald Dial, according to legislative records.
That let lenders use multiple databases, Banking Superintendent John Harrison said. When Harrison moved to create a single database in 2013, lenders sued.
Dial, a Lineville Republican, said the intent of the addition was to avoid giving one database company a monopoly.
Former Representative Jeff McLaughlin, a Democrat who opposed the 2003 law, said there's no way to track loans because lenders didn't want one.
"They were able to do it as a result of the same old routine down there: well-placed influence," said McLaughlin, 54, a lawyer from Guntersville.
Republican Representative Mike Hill, 65, who sponsored the 2003 bill and is a commercial lender, said there's insufficient support to pass rate caps this year.
Coleman said a higher power will prevail.
"Jesus was for profit," Coleman said. "He wanted people to make a good living, just not take advantage of the poor."
Before it's here, it's on the Bloomberg Terminal.
LEARN MORE