Sweet Home Chicago: Obama Back to Support Emanuel
Annie Linskey and John McCormick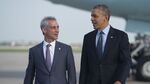 President Barack Obama designated a Chicago neighborhood rich with black history as the city's first national monument with a stop that also was timed to boost Mayor Rahm Emanuel's re-election prospects.
The designation for the city's historic Pullman neighborhood had been sought for years and comes the week before an election next week in which Emanuel's chances hinge heavily on support from black voters.
Emanuel introduced Obama as "my friend, Chicago's favorite son," and the president returned the favor by drawing attention to his close relationship with his former chief of staff.
"Before Rahm was a big shot mayor he was an essential part of my team at the White House," Obama said on the stage Thursday at Gwendolyn Brooks College Preparatory Academy, just outside the historic neighborhood. "I could not be prouder of him and the extraordinary service he provided."
Beyond the politics playing out, the national monument designation is welcome news to businesses in the area that are counting on it to bring more residents, workers, tourism and commerce to the neighborhood, which is on Chicago's far South Side and in the area where Obama worked as a community organizer when he first moved to the city.
Business Interest
"It's fantastic to see Pullman coming back in so many ways," said Adam Lowry, co-founder of San Francisco-based Method, a closely held home-cleaning products manufacturer that expects to open a new plant in April that will bring 100 jobs to the neighborhood. "It's a great location with great infrastructure for doing business."
The designation had bipartisan support. Illinois Governor Bruce Rauner, elected in November, and Illinois Senator Mark Kirk, both Republicans, were among the political leaders who attended the event.
Obama also announced an initiative called "Every Kid in a Park" that will provide all fourth-grade students and their families with free admission to National Parks and other federal lands during the 2015-16 school year.
"The country's most special places should belong not just to the rich and powerful," Obama said.
National Monuments
The president accorded national monument status to two other places on Thursday. He elevated the Honouliuli National Monument in his native state of Hawaii, honoring a camp where Japanese-Americans were interned during World War II. He also designated the Browns Canyon in Colorado as a national monument.
Located about 12 miles (19.3 kilometers) south of Chicago's downtown Loop, the neighborhood Obama visited was created by entrepreneur George Pullman, who established it in the 1880s for his rail-car manufacturing company and its workers, including many newly emancipated blacks.
It was one of the earliest company towns in the U.S., similar to one later built by chocolate magnate Milton Hershey in Hershey, Pennsylvania. In 1894, Pullman was also home to the start of a widespread railroad strike, after company wages were cut without corresponding reductions in rent for the company homes where many workers lived.
Pullman Porters
While Pullman employed a mostly white workforce to manufacture railroad passenger cars, it also recruited the first porters, waiters and maids from the population of former slaves to serve on its luxury cars. They eventually organized a union, the Brotherhood of Sleeping Car Porters, to win better pay and treatment. Those jobs played a major role in the rise of the black middle class.
"These men and women without rank, without wealth, without title became the bedrock of the new middle class," Obama said.
Obama made two other stops while in the city. He went by his family's home in the Hyde Park neighborhood to get an update on the site selection for his presidential library, which Chicago is bidding for in competition with New York City and Honolulu.
He also dropped by a campaign office on the South Side to thank volunteers making calls on behalf of Emanuel and Democrat Will Burns, a member of the city council representing Obama's neighborhood.
"I have confidence as a voter and as a resident of Chicago that he will continue to do an amazing job," he told them, referring to Emanuel. "But the only way that happens is if people get out there and vote."
50 Percent
Emanuel, 55, is closing in on the 50 percent-plus-one-vote majority needed in Tuesday's election to avoid an April 7 runoff against a second-place finisher, the latest polling shows.
A Chicago Tribune poll released this week showed him with 45 percent support, followed by his top challenger, Cook County Commissioner Jesus "Chuy" Garcia, at 20 percent. Conducted Feb. 11-15, the survey had a margin of error of 3.7 percentage points.
Blacks account for about a third of Chicago's 2.7 million residents and often play an influential part in its elections. The Tribune poll showed black voters will be key in deciding whether Emanuel avoids a runoff. The incumbent holds a 42 percent to 13 percent advantage over Garcia among black voters, although a quarter remain undecided, lending urgency to Obama's visit to the city where he built his political career and remains popular, especially among black voters.
Local Issues
Dick Simpson, a former Chicago alderman who teaches political science at the University of Illinois at Chicago, said Obama's visit alone isn't likely to be enough to push Emanuel over the 50 percent mark he needs to avoid a runoff.
"Obama is still popular here, but it's just not clear that his endorsement, in this case, will mean much," Simpson said of black voters. "They're concerned about the high crime on the South and West sides, the closing of 50 schools and the general sense that Rahm cares more about the downtown development than the general neighborhoods."
If Obama really wanted to help Emanuel, Simpson said the president would let it be known that he plans to build his presidential library on the city's South Side after leaving office in 2017. A decision about the library, which Emanuel has aggressively lobbied for, isn't expected until late March. "That would be a much bigger deal," Simpson said.