Microsoft CEO Satya Nadella Looks to a Future Beyond Windows
Apps for iOS and Android are part of his push
By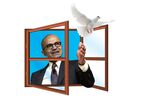 "Our industry does not respect tradition. It only respects innovation," Satya Nadella said in February 2014 when he was appointed chief executive officer of Microsoft. After 39 years, the company Bill Gates co-founded had come to be perceived as an out-of-touch behemoth that relied too much on its Windows operating system and failed to move into new markets, like mobile. Key products such as Microsoft Office—the suite of applications that includes Word and Excel—had been designed around Windows, with only parts converted to work on Apple's iOS and Google's Android systems. Nadella's accession would be a chance to reorient the company, getting it to introduce products that looked outside Windows and to develop new business models.
Nadella has aggressively pursued this course. Since December, Microsoft has bought two small companies that focus on mobile productivity apps for iOS and Android phones and tablets. To appeal to younger users, the company last September purchased Mojang, maker of the popular Minecraft video game, for $2.5 billion, and it's adding features to Windows such as 3D holograms that users view through a headset and control with hand gestures. The newest version of Microsoft's Power BI (business intelligence) product—a dashboard for data analysis—was released in January, first for iOS systems. "Microsoft hasn't really shown any sort of vision like this in a long, long time," Michael Silver, an analyst at Gartner and longtime Microsoft watcher, said in January when it unveiled the holograms. "All it took was replacing the senior management."
In Nadella's first year, Microsoft stock rose 14 percent, and sales increased 12 percent. The new CEO, unlike his predecessor Steve Ballmer, is popular with investors, venture capitalists, and startups. Even employees like Nadella, surprising for a chief executive who signed off on the largest layoffs in Microsoft's history—18,000 job cuts were announced last July. Staff say they appreciate Nadella's strategy shifts and attempts to make the company leaner and less bureaucratic.
The big issue Nadella faces is how to generate more revenue with new software and features, such as cloud subscriptions and free apps replacing pricey Windows and Office licenses. Revenue is projected to increase 8.6 percent, to $94.3 billion, this fiscal year, slowing from last year's double-digit growth, according to data compiled by Bloomberg. "He's hit all the low-hanging fruit—that said, these things were not easy to do," says Brad Silverberg, a venture capitalist and former Microsoft executive.
"Where there are execution issues, we will address them," Nadella said on a conference call in January. "Where there are macroeconomic issues, we will weather them." Microsoft declined to make Nadella available for an interview.
Windows, which once dominated computing and ran on more than 90 percent of computing devices, now runs on 11 percent of computers and gadgets, according to a report from Sanford C. Bernstein. Nadella and Windows chief Terry Myerson are looking at ways to update the software.
Nadella uses the Power BI dashboard to track and compile huge amounts of information on product usage and financial performance to see what works and what doesn't, says James Phillips, general manager of the product. Nadella also measures and coordinates executive performance with metrics from the dashboard. "Satya has been leading the charge for everyone in the company to be more data-oriented," says Chief Strategy Officer Mark Penn.
Microsoft's quarterly earnings report in January highlights the hurdles Nadella faces. While cloud software sales to businesses more than doubled in the quarter that ended Dec. 31, sales of traditional Office and Windows software to companies fell short of analysts' estimates. Windows sales to personal computer makers who put the program on their machines dropped 13 percent. In total, profit declined 11 percent from the previous year, to $5.86 billion, while sales rose 8 percent, to $26.5 billion.
Revenue is being hurt by fluctuating currencies, while the Chinese government is investigating Microsoft over alleged anticompetitive practices and seeking to end purchases of its software. The government of Russian President Vladimir Putin says it wants to reduce reliance on Microsoft.
Internally, Nadella and his executives make the point whenever they can that the day could come when new and younger generations of computer and software users might not use its products. At one board meeting last year, Windows chief Myerson showed a slide with pictures of students using Apple Macs and iPads, according to Microsoft spokesman Peter Wootton.
In 2014, Nadella told employees at a town hall that they should skip meetings if they don't really need to be there. And he's advised workers to come to him directly if they feel the bureaucracy is stifling. "The organization knows it's go-time," says Phillips. "There are changes in the market we need to respond to."
Nadella's also changed the way engineering teams are structured, eliminating testers to speed up software releases and adding data scientists and designers to the teams. He's looking at cutting some middle managers to make decisions faster and to eliminate layers of bureaucracy, Wootton says.
Eli Lilly Chief Technology Officer Mike Meadows says Microsoft is more open and listening to what customers need. He was glad to see the company demonstrate its products on iPads at Microsoft's chief information officer conference last fall—Lilly's 20,000 salespeople use Apple tablets, Meadows says. "They're starting to demonstrate more understanding of reality," he says. "They would say, 'We were going in this direction already,' but Satya lit a fire."
The bottom line: Nadella is working to push Microsoft out of its Windows slump and into cloud computing and apps for iOS and Android.
Before it's here, it's on the Bloomberg Terminal.
LEARN MORE