Work From a Stranger's House
Lessons in efficiency from a Scandinavian startup
By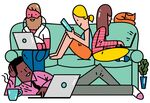 In a Stockholm apartment, two people sit at a blond wood dining table, tapping away at their laptops. Two more sit at a similar table in the kitchen. One man reclines with his laptop in a chair, his feet resting on a small ottoman. The atmosphere is cozy, with a cluttered bookshelf and a fresh pot of coffee. It looks like an Ikea catalog, but it's not, and none of these people live in the apartment. They're just using it as their office as part of a co-working movement called Hoffice.
Hoffice—home, office, get it?—is the creation of Christofer Franzen, 35, a Swedish psychologist who studies how people can work more efficiently. Last year, after finishing his master's thesis, "he was tired of working in cafes and had this idea: What if my friends and I got together to work?" says Gosta Tingstrom, 52, a friend of Franzen's who works as a business consultant. Neither has an office, so they gathered some other friends and started working out of one another's homes—for free.
For a year, Hoffice remained an informal experiment. "Then last fall there was a snowball effect. Strangers started showing up," Tingstrom says. Most heard about it through word of mouth; a few wanted to start their own branches. Hoffice now has 13 groups spread across countries including Canada, Denmark, and France. It's also working with people as far away as China and Turkey to help them set up a dozen more.
The co-founders teach every Hoffice the same set of productivity principles. Members, of which there are no more than 10 or so at a time, divide their 9-to-5 workday into 45-minute increments, with 15-minute communal breaks to play games or run around outside. Several studies, most notably a 1993 American Psychological Association survey of violinists, have found that people get more done when they work in short bursts.
Before each 45-minute session, Hoffice workers tell the room what they hope to accomplish—finish a spreadsheet, say, or track down a client. Later they reveal whether they succeeded. "We believe that makes you more committed to do what you want to do," Tingstrom says. "It also holds you accountable—if a goal seems too lofty, Hoffice workers help the person come up with something realistic." Halfway through, they all take an hour-plus lunch break. The host is reimbursed for groceries, which is the only part that currently costs money.
Each offshoot has its own personality. One in Sweden—Doffice, for "distance office"—lets people Skype in. A Toronto host collected a fee of $5 until the founders asked her to stop. "I've never heard of a concept like this before, but it's fascinating," says Teresa Amabile, a research director at Harvard Business School who studies how people work. "It's like a big study hall, but without the high school teacher standing over you."
There are no Hoffices in the U.S. yet, but people in Boston and Philadelphia are working on it. According to the U.S. Census Bureau, the number of Americans who work primarily from home rose 38 percent over the past 20 years and now stands at about 7 percent of all employees, or 10 million people. There's also been a boom in co-working spaces: The Commercial Real Estate Development Association says only one such enterprise existed in the U.S. in 2005. By 2013 there were 781. The majority of these are for-profit, like Santa Cruz (Calif.)'s NextSpace, which charges up to $1,300 a month. The Hoffice folks hate comparisons to them.
Most people who use Hoffice are self-employed. Some have just started their own companies and hope to eventually have their own office, while others are freelancers who are sick of their own apartments. One man was a baker; he made cakes in a Hoffice kitchen. "It was mind-blowing how much work I got done," says Andreas Wolf, 27, an urban planner in Copenhagen. "I tried different systems and to-do list apps to give myself structure, but they never worked."
For now all Hoffices take place in someone's residence, though Wolf says he's thinking about renting a cheap space and making Copenhagen home to the first permanent offshoot. Of course, then it would just be like any other office.
Before it's here, it's on the Bloomberg Terminal.
LEARN MORE