Former NBA Player Jerome Kersey Dies at Age of 52
Rob Gloster and Mason Levinson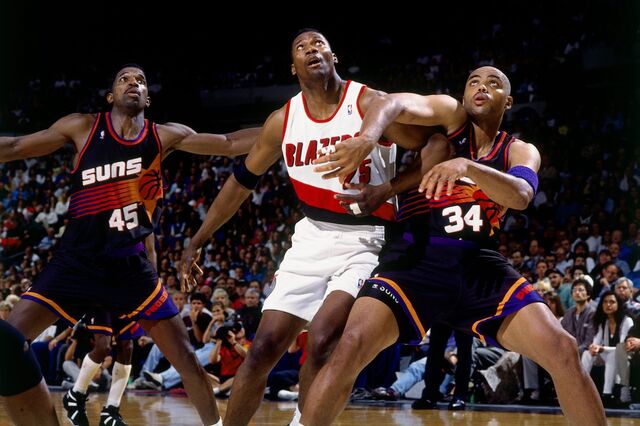 Jerome Kersey, who in the 1990s helped take the Portland Trail Blazers to the National Basketball Association finals twice and won the title with the San Antonio Spurs during a 17-year playing career, has died. He was 52.
His death was reported Wednesday on the Blazers website. He died on Feb. 18 after being taken from his home by ambulance to Legacy Meridian Medical Center in Tualatin, Oregon, the Oregonian reported.
He died from a blood clot that traveled from his left calf to his lungs, causing a pulmonary thromboembolism, the newspaper said, citing Larry Lewman, deputy state medical examiner. His death may be a complication from surgery he had Feb. 17 to repair a torn meniscus in his left knee, Lewman said, according to the Oregonian.
That same day he appeared at a Portland, Oregon, high school for a Black History Month event with fellow former Blazers teammates Terry Porter and Brian Grant, the newspaper said.
A 6-foot-7 (201 centimeters) small forward, Kersey averaged 10.3 points and 5.5 rebounds from 1984 to 2001 with Portland, the Golden State Warriors, Los Angeles Lakers, Seattle Supersonics, San Antonio Spurs and Milwaukee Bucks. He spent 11 seasons with the Trail Blazers.
Kersey won an NBA championship with the Spurs in 1999 and reached the league's finals with Portland in 1990 and 1992.
'Terrible Loss'
"Today we lost an incredible person and one of the most beloved players to ever wear a Trail Blazers uniform," owner Paul Allen said in a statement released by the team late last night. "It's a terrible loss."
At the time of his death, Kersey was director of alumni relations for the Blazers and was part of the team's social responsibility department.
"Jerome was an incredible influence on our players as a model for life after basketball," team President Neil Olshey said in the release. "He set the bar extremely high with his long-lasting influence in this community."
Kersey was born on June 26, 1962, in Clarksville, Virginia, according to Basketball-Reference.com. He played college basketball from 1980-84 at Longwood University in Farmville, Virginia, when it was a Division II team, below the top level of collegiate competition.
In 1984, he was a first-team All-American and in 2005 he became an inaugural member of the school's athletic Hall of Fame, according to its website. The following year, he completed his degree from the school.
His survivors include his daughter Kiara, his wife Teri, and her children McKenzie, Brendan and Maddie, according to the university's website.
Before it's here, it's on the Bloomberg Terminal.
LEARN MORE