The Demise of Finance Jobs in New York City
But boutique hotels grow in the Bronx
by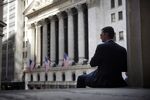 As she tells it, Madonna arrived at Times Square by taxi in 1978 with $35 in her pocket and got a job at Dunkin' Donuts. While New York may have changed since the Material Girl's heyday, restaurant work is still your likeliest gig in the city.
Not so much Wall Street.
Jobs in the nation's financial nerve center have been on a downward trajectory since the 1990s. Hiring there failed to fully recover from the bursting of the dot-com bubble and has essentially flatlined since the 2008 crash.
Leisure and hospitality on the other hand -- from working in the ticket booth at a Broadway theater to checking in guests at the Marriott hotel -- are catching up.

Alas, these jobs pay a whole lot less. 

There is a silicon silver lining. 
Since Google Inc. moved into Chelsea circa 2006, other tech companies have followed. In the past 12 months, Amazon.com Inc. opened an office across 34th street from the Empire State Building, bringing 500 jobs, Buzzfeed Inc. signed a new lease and promised to add 475 jobs in the next five years, according to the New York Department of Labor. Facebook Inc. is boosting its 100,000 square feet of office space by 60,000 square feet.

The good news is that since the start of 2010, when the U.S. economy began showing consistent signs of recovery, NYC has added more than 435,000 jobs, to bring the total to about 4.1 million.  To be sure,  the dearth of high-paying spots means that the average wage -- $87,642 -- is no higher than what it was seven years ago.

When looking for gainful employment don't forget to cast your net wider than Manhattan, or Brooklyn. There are five boroughs in the city.
The Bronx -- still fighting negative associations with burning buildings and rampant crime -- is recording the biggest drop in unemployment rates and riding a hospitality boom, with boutique hotels drawing tourists who can't afford Manhattan prices. The Opera House Hotel -- once a theater where Harry Houdini performed --  offers rooms at about $120 a night, less than half the average daily rate for a midtown hotel. 

Before it's here, it's on the Bloomberg Terminal.
LEARN MORE