European Banks Under Tight Controls Encourage Mergers
Aaron Kirchfeld and Brooke Sutherland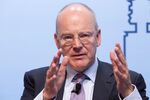 New rules intended to make European banks stronger may end up encouraging them to get bigger, too.
With the European Central Bank now the currency zone's top financial supervisor, the emphasis is on fewer and better-run lenders. Euro-zone banks have more assets -- about $17 trillion -- than almost every currency group tracked by the Bloomberg World Banks Index, yet they are among the least profitable. The confrontation between Greece and other euro-area nations is just the latest crisis to beset the region as lenders contend with declining profits and stricter regulatory requirements.
There's only so much cost-cutting that banks can do, making consolidation necessary to increase returns, said Cyril Meilland, an analyst at Kepler Cheuvreux. And with the ECB's stress tests on the top institutions now completed, the regulatory uncertainty that kept acquirers on the sidelines last year has begun to diffuse. Institutions including Italian lender Banca Monte dei Paschi di Siena SpA and even Germany's Commerzbank AG, one of the cheapest major financial firms, could now become merger candidates.
"Financial institutions in Europe are looking at what they can do to improve profitability in a slow-growth and low-rate environment," said Isabelle Seillier, the head of financial institutions in the region at JPMorgan Chase & Co.
Regulatory and economic upheaval limited the number of euro-area bank takeovers last year to about 30 -- the fewest since at least 2003 -- even as global deal activity surged, according to data compiled by Bloomberg. This year, things may start to pick up.
ECB Oversight
The ECB now has direct responsibility for monitoring the region's biggest banks. The idea is to streamline and standardize regulations across countries and mitigate future financial crises by enforcing higher capital requirements. It may have the additional side effect of driving more takeovers.
Euro-area banks tracked by the Bloomberg World Banks Index had net income of about $30 billion during their most recently reported 12-month period. That's roughly as much as Australian and Canadian banks in the index each earned, even though they have just a fraction of the assets of their European peers. The average return on assets for euro-zone banks is less than 0.1 percent -- about 10 times lower than that of U.S. peers.
"Consolidation is probably required in order for margins to increase," Meilland of Kepler Cheuvreux said. On the one hand, "you have regulators which are probably not very happy to see banks get bigger. At the same time they are pushing for it, even though it is a non-intended consequence, by raising the bars."
Stress Tests
In its stress test of the region's 130 biggest banks, the ECB gave failing grades to 25 of them. Those that had deficiencies were given as many as nine months to fill capital gaps. Italian banks had the largest shortfall, making the country a logical starting place for acquisitions.
In October, Banca Monte dei Paschi hired advisers to explore all strategic options as it sought to replenish a 2.1 billion-euro capital deficiency. BNP Paribas SA and Unione di Banche Italiane have both been cited as potential buyers for the world's oldest lender, though the chief executive officers of the two banks have sought to quash deal speculation.
'Popolari' Plays
Italy's cabinet last month also approved a decree to convert the country's cooperative lenders, known as popolari, into joint-stock companies, making them more appealing to investors and removing obstacles for consolidation.
Banca Popolare di Milano Scarl is among the likeliest targets because it's a small, cheap and overcapitalized bank covering the richest part of the country, according to Fabrizio Bernardi, an analyst at Fidentiis Equities.
Three-way combinations may be necessary to consolidate the crowded Italian banking system. The best combination would involve a deal between Banco Popolare SC and Credito Emiliano SpA, followed by a merger with Banca Popolare dell'Emilia Romagna SC, though that would take time, according to a report this month from George Karamanos, an analyst at Keefe, Bruyette & Woods Inc.
Banco Popolare SC Chief Executive Officer Pier Francesco Saviotti told reporters in Milan Tuesday that the bank may play a role in consolidation and that a combination with banks including Popolare di Milano would be suitable.
German Lenders
Some lenders in Germany would have failed the ECB's stress tests if the fully phased-in regulatory standards had been applied. That may lead to deals in that country as well, Commerzbank CEO Martin Blessing said in November.
Commerzbank itself is one of the rare potential German targets for acquirers seeking a shortcut to larger-scale exposure in that country, Deutsche Bank AG analyst Benjamin Goy wrote in an April report. The country's second-largest bank, valued at about $15 billion, is partially owned by the government after a 2009 bailout.
ING Groep NV would be an interesting partner for Commerzbank because of its strong presence in online banking and higher market share in mortgages, according to the report from Goy. The Dutch bank completed a bailout repayment last year. A combination with UniCredit SpA would offer cost synergies, the analyst said.
He put a deal a few years off in part because many would-be acquirers are still in the process of deleveraging and lack the firepower to tackle such a sizable acquisition. A more streamlined regulatory landscape and Commerzbank's cheap valuation may increase the odds. The company trades at 0.5 times its book value, a lower multiple than almost every other similar-sized institution, according to data compiled by Bloomberg.
Too Big?
The other big question is whether regulators would look favorably upon large, cross-border megamergers like that.
"The ECB just took over as main regulator," said Christian Sole, an equity analyst in Brussels at Candriam Investors Group, which oversees about 80 billion euros in assets and is part of New York Life Investment Management. "My impression is that they would prefer to be regulator for several years and to be sure that they know what is going on before allowing consolidation."
Even so, as new capital requirements and regulations erode profitability, banks are increasingly likely to seek deals. Some assets are already on the block. General Electric Co. is exploring options for its Polish banking unit and has asked potential bidders to submit their interest, people with knowledge of the situation said this month. The Netherlands, which spent more than 95 billion euros in capital and guarantees to bail out the finance industry, is also in the process of disposing of financial assets including bank ABN Amro Group NV.
Weighing Options
Deutsche Bank is weighing options such as the sale of assets, including its Postbank consumer-lending unit, as Germany's biggest bank reviews its strategy, a person with knowledge of the matter said in January.
In Portugal, the country's central bank has invited 15 suitors to the second phase of the sale of Novo Banco SA, the lender that emerged from the breakup of Banco Espirito Santo SA. Banco Santander SA and Banco BPI SA of Portugal have expressed interest in bidding. CaixaBank SA this week offered to buy the shares it doesn't already own in BPI, potentially setting it up to support the bank's offer for Novo Banco.
"All of this kind of new regulation and increasing capital requirements forces banks to either raise capital or to perform more M&A in order to get economies of scale," Al Alevizakos, a London-based analyst at KBW, said in a phone interview. "The M&A angle is going to be played after we have more clarity on the capital positions for some banks."
Before it's here, it's on the Bloomberg Terminal.
LEARN MORE